UGSVS Open Lecture "How to Protect Ourselves from Microbial Resistant Bacteria"
On Wednesday, March 2, 2022, the United Graduate School of Veterinary Sciences (UGSVS), Gifu University hosted the Open Lecture titled, "How to Protect Ourselves from Microbial Resistant Bacteria" at Gifu University Satellite Campus (Gifu City).
To prevent the spread of Covid-19 infections, the number of attendees was limited through prior registration, and was conducted both in-person and remotely for wider audiences. Approximately 40 people attended from Gifu Prefecture Medical Association, Gifu Veterinary Medical Association, students and staff from Gifu University and local citizens. Furthermore, because the lecture was available on demand from Friday, March 11 through Tuesday, 29, additionally 70 people accessed the lecture for these two weeks.
UGSVS hosts an open lecture once a year to discuss the latest themes in veterinary sciences, to share relevant information with citizens, medical and veterinary experts in the community, and to exchange opinions and views between medical experts and residents.
Various initiatives are being accelerated around the globe to bring the concept of "One Health" into realization. It is predicted that microbial resistant bacteria may leave 10 million dead globally in 2050. "One Health" approach is hoped to help us find effective measures to tackle infectious diseases including resistant bacteria and address issues which interconnect humans, animals and the environment from wider, comprehensive perspectives.
The following are the three guest speakers who introduced initiatives of WHO, efforts to secure food safety in Japan and Gifu Prefecture:
- Dr. Motoyuki Sugai, AMR Center, National Institute of Infectious Diseases (NIID)
- Dr. Yutaka Tamura, Professor Emeritus of Rakuno Gakuen University, Chairperson of AMR Working Group, Food Safety Commission of Japan, Cabinet Office
- Professor Hisashi Baba, Center for Nutrition Support & Infection Control, Gifu University Hospital
Each speech was followed by many active exchanges and the topics varied from the ones closely related to our daily lives to highly scientific themes.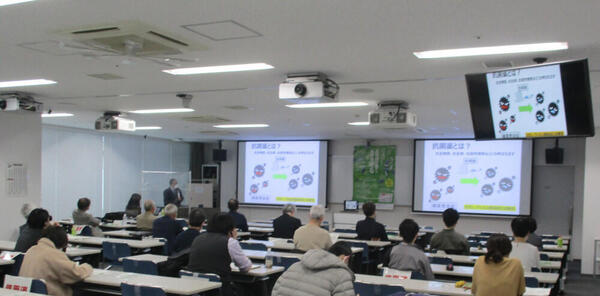 2022.04.14
Internal links
Original sites
External links
File links