Comprehensive Partnership Agreement with Wanouchi Town
Gifu University and Wanouchi Town (Gifu Prefecture) signed a comprehensive partnership agreement on eight projects including disaster prevention, road and urban development on Friday, October 22, 2021.
Gifu University and Wanouchi Town have been engaging in joint research on specified foreign organisms and their eradication, and delegation of Gifu University staff as members of Wanouchi Town School Collaboration Meeting, etc. for years. With the signing of "Comprehensive Partnership Agreement," both aim to develop human resources who can contribute to create and promote growth of a sound, dynamic society. To this end, both are committed to building a strong framework of cooperation, and continue to foster partnership in a wide range of fields. Wanouchi Town is the 29th local municipality within Gifu Prefecture that Gifu University concluded the partnership agreement with.
In the signing ceremony, Mr. Takayuki Kino, Mayor of Wanouchi Town gave the following speech; "Gifu University and Wanouchi Town already launched various joint programs, and the latest partnership agreement will become a driving force for the two to reinforce our collaboration. We need to have a strong basis to put our administration forward, and based on the information from Gifu University, we would like to actively implement our policies while achieving our accountability for our citizens."
President Hisataka Moriwaki said, "Gifu University already concluded 43 partnership agreements with local municipalities within Gifu Prefecture and Gifu Prefectural Government, and Wanouchi Town is the 29th local municipality that the university signed a partnership agreement with. We have been working hard together particularly for disaster prevention and protection of environment. I hope the latest signing of agreement will pave the way for building a strong, enduring partnership between us."
As a first step of collaboration, Gifu University and Wanouchi Town are planning to lay out a support plan for regional public transportation development programs.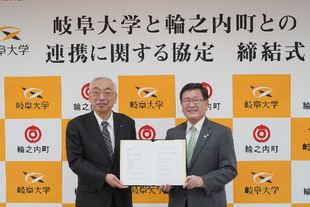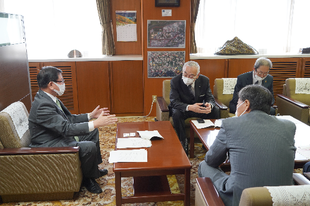 2021.11.11
Internal links
Original sites
External links
File links