Second Joint Webinar with IITG on Food Science and Technology
On Saturday, October 23, 2021, Gifu University hosted Joint Webinar, "Recent Research Trends in Food Science and Technology" with Indian Institute of Technology, Guwahati (IITG, India). IITG is one of the overseas partner universities for Gifu University in implementing Joint Degree Programs (JDP: Please access for JDP information

click here)
Joint Webinar started last year in expectations of a synergetic effect with JDP, and was held in association with the World Food Day on October 16 whose date was set to commemorate the date of the founding of the United Nations Food and Agriculture Organization in 1945.
Six speakers introduced the latest academic and practical aspects in food science and technology. The following are the speech themes and names of speakers:
・"Novel cholesterol lowering peptides derived from food proteins" by Professor Satoshi Nagaoka (Faculty of Applied Biological Sciences, Gifu University)
・"The role of food engineering in realizing the zero hunger* in the world" by Professor Takahisa Nishizu (Faculty of Applied Biological Sciences, Gifu University)
In additions, environmentally-friendly food processing and packaging, and the frontline of lab-grown and mock foods were presented by other speakers. Approximately 40 students and academic staff who are involved in JDP in Japan and India attended the webinar, and many questions were raised from the participants to the speakers.
Gifu University will continue robust exchanges with IITG with JDP as a driver for our bilateral university partnership in the days to come.
*zero hunger: one of the goals of SDGs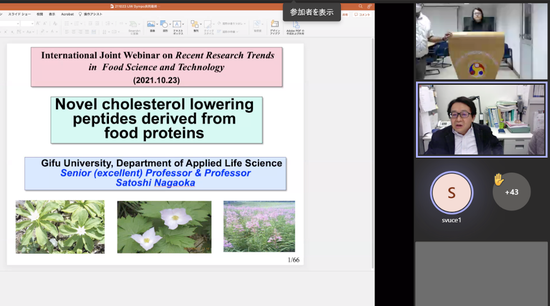 2021.11.11
Internal links
Original sites
External links
File links