Meeting between teachers studying at Professional Degree Program and members of Gifu Prefectural Board of Education
On Friday, October 22, 2021, thirteen teachers (2nd year students studying School Administrators Prepare Course, Professional Degree Program, Graduate School of Education, Gifu University who are dispatched from the Gifu Prefectural Board of Education) made mid-term presentations on their studies of "Development and Practice" at the Gifu Prefectural Board of Education.
"Development and Practice" is one of the core subjects of Professional Degree Program, and in this subject, students study how to address educational issues that schools or communities are facing. After their presentations, each presenter received comments from the following members of board of education:
・Mr. Munehiko Takahashi, Assistant Superintendent
・Mr. Shizuo Koda, Executive Director of Compulsory Education
・Mr. Yuki Nakamura, Personnel Division Director
・Mr. Keizo Nakagawa, Deputy Director
・Mr. Takanori Aoki, Deputy Director
・Mr. Takashi Takagi, Assistant Director
・Mr. Masahiro Ogura, Assistant Director
Their comments included advice to the students such as "proper sharing of study results with others and applying them to schools for their better administration," "need for more sophistication of data," as well as "need for relative assessments and generalization of data."
Through their attendance of the meeting, students were given an opportunity to review the meaning of professional school administrators and contributing to the improvement of school operations and communities.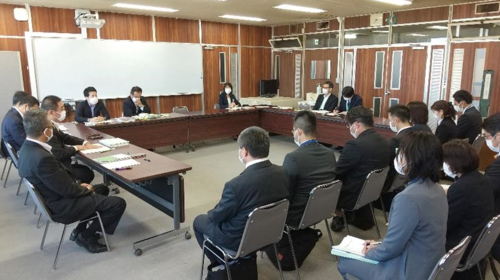 2021.11.11
Internal links
Original sites
External links
File links