Triparty Talk "Are you enjoying your learning? - Thinking about a "PhD" and "Japanese society from now on" with Prof. Mogi"
On Monday, October 11, 2021, Triparty Talk "Are you enjoying your learning? - Thinking about a "PhD" and "Japanese society from now on" with Prof. Mogi" was held at the university auditorium. Dr. Kenichiro Mogi, a senior researcher at Sony Computer Science Laboratories was invited as a guest speaker and he exchanged opinions with President Hisataka Moriwaki and Professor Tetsuji Kume (Faculty of Engineering) onstage. This talk was also livestreamed by Zoom platform. Ninety-seven students and staff of Gifu University attended the talk at the auditorium and 178 people on and off campus joined online.
Triparty Talk was divided into three segments including Q&A session both on-and-offline.
In the first session, three speakers and the audience thought together about "Artificial Intelligence (AI) and human brains" and discussed potential socioeconomic changes in the era of AI and human resources who can adapt themselves to this ever-changing society.
In the second session, under the theme, "Thinking about a PhD," participants shared their thoughts about the roles of universities in society, environments surrounding people with Ph.D. both at home and abroad. Dr. Mogi, President Moriwaki and Professor Kume also introduced challenges and excitements they experienced while they were engaging in their research at universities.
Third session focused on how people with Ph.D. can be accepted by society. Speakers and the audience reviewed the meaning of obtaining Ph.D. in Japanese society.
Introduction of Joint Degree Programs launched in April 2019 with Indian Institute of Technology, Guwahati, and the National University of Malaysia, respectively also attracted a lot of attentions from the audience.
At the end of the talk, Dr. Mogi sent a following message to Gifu University students: "The world of academia is interconnected. What matters most is "what you want to pursue and explore." Studying at Gifu University will be a gateway to immense possibilities and obtaining Ph.D. is the first step forward in attaining your goals to be a successful researcher/scholar in the future.
Questionnaire results showed that many of the students started to have positive image about Ph.D. and we are convinced that the talk gave them some insights into the meaning of earning Ph.D. and its benefits.
Gifu University continues to promote international collaborative educational programs for the university's internationalization and to enhance our educational and research competitiveness in the world.
Please access GU-GLOCAL YouTube for Triparty Talk.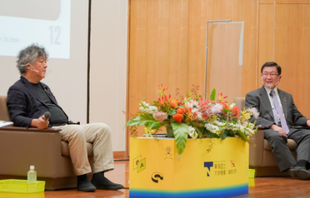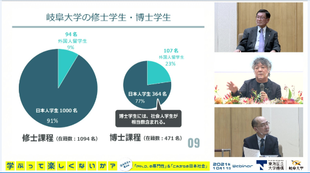 2021.11.11
Internal links
Original sites
External links
File links