The 5th Seminar: "Support for Students with Special Needs/Consistent Assistance for Students Studying Professional Degree Programs and at School"
On Sunday, October 3, 2021, Assistant Professor Ryo Horita of the Health Administration Center and Dr. Chihiro Kawakami from the Medical Education and Development Center hosted an online seminar titled, "Support for Students with Special Needs/Consistent Assistance for Students Studying Professional Degree Programs and at School."
Symposiums and seminars to discuss how to support students with disabilities have been held since 2017 whose focusses were mainly on collaboration between the university and local communities, study on support for students with disabilities in their study of professional degree programs. In this 5th online seminar, participants narrowed down some specific fields of education, and discussed how to support students with special needs who are studying professional degree programs and at school. On October 3, approximately 100 people joined not only from Gifu University but also from organizations/institutions in education, administration and welfare communities across the country. The 5th seminar was supported by Ogaki Women's College, Gifu Shotoku Gakuen University, the Faculty of Education, Gifu University, members of The Student Support, Nagoya University, Japan Student Services Organization and Gifu Prefectural Board of Education.
At the beginning of the seminar, Dr. Horita gave an overview of Gifu University's support programs for students with disabilities, and objectives of its future initiatives. In the first session, four speakers appeared on the screen. Of them, Dr. Kayo Nomura from Shotoku Gakuen University and Associate Professor Tadahiro Kaikzoe from Ogaki Women's College introduced student support programs implemented in their respective universities. It was followed by speeches by two other speakers: Ms. Akiko Kojima from Gifu Prefectural Board of Education spoke about the prefecture's programs to foster teaching staff specializing in education for students with disabilities. Mr. Keitaro Iguchi from the Ministry of Education, Culture, Sports, Science and Technology (MEXT) made his presentation about MEXT's initiative to explore more opportunities for people with disabilities.
In the second section, group discussions and general meeting were held where active opinion exchanges among participants were observed through the computer screens.
To support students with disabilities who are aspiring to become a teaching professional in the future, consistent assistance from elementary through senior high school is indispensable. In addition, we believe smooth coordination among educational institutions and local communities will be playing a pivotal role to meet the real needs of students. We would like to continue to hold symposiums and seminars to help people develop their deep understanding about disabilities and engage in discussions as to how best to utilize strengths and capabilities of students while promoting collaboration and coordination among people and providing assistance for those with disabilities in Japan.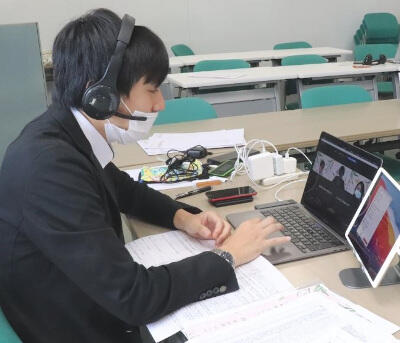 2021.10.19
Internal links
Original sites
External links
File links