School of Medicine Students and "Minamo" Dancing Video Posted
Nineteen 4th year students of the Nursing Course, the School of Medicine took part in the public health nursing training sessions from May through August, 2021. In the training, they study to become public nurses who are responsible for promoting people's health and preventive medicines. In Gifu University, only those who passed the examinations for public nurse (conducted for the 2nd year students) can be enrolled in the public nurse course.
The training sessions were held mainly in three cities within Gifu Prefecture. However, students who were attending the sessions in Hashima City, had to cancel their participation because of the sudden surge of Covid infections. In spite of these difficult situations, their strong motivations to dedicate to public health led to the creation of online physical exercising materials for local residents, parents and children. They were also given an opportunity to dance with "Minamo (Gifu Prefecture's mascot) for recording, and the scenes were posted on the multiple websites. Please click "Related Links" below to see their activities.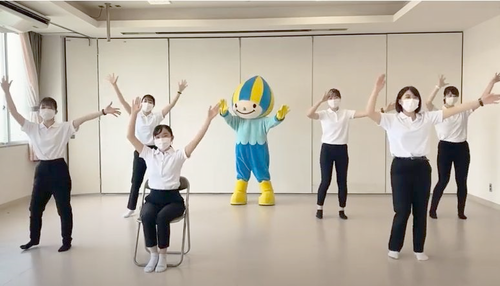 2021.09.13
Internal links
Original sites
External links
File links