Conclusion of an Agreement for Establishing "Endowed Research Division for Infectious Diseases"
On Friday, July 30, 2021, Gifu University and Gifu Prefecture signed an agreement for establishing a new "Endowment Research Division for Infectious Diseases" within the Graduate School of Medicine, Gifu University in order to develop medical professionals through highly-specialized infectious disease education in Gifu Prefecture.
Under this agreement, both the university and the prefecture will jointly foster medical experts specializing in treatments and control of infectious diseases, and develop medical system to combat all sorts of infections which may afflict the citizens in the future. To this end, the agreement has set the following three objectives:
- Develop human resources to deal with infectious diseases for the citizens of Gifu Prefecture
- Reinforce infection control through collaboration among local communities, and
- Implement research programs on epidemiology, infection control and infection-induced disasters
After their signing of the agreement at the ceremony, President Hisataka Moriwaki of Gifu University commented, "The new division will work hard to contain the COVID-19 infections for the time being, but we all expect people in the division become ready to take holistic approach rather than simply examining specific parts or organs of patients." Governor Hajime Furuta of Gifu Prefecture followed him and said, "I hope the division can address issues such as shortages of epidemiologists. I also wish that we could jointly build a comprehensive, robust framework to fight against any future infections."
To meet the high expectations for the division, we will continue to do our utmost to contain Covid infections, ramp up our medical system, and safeguard the safety of citizens against any outbreaks of new infections.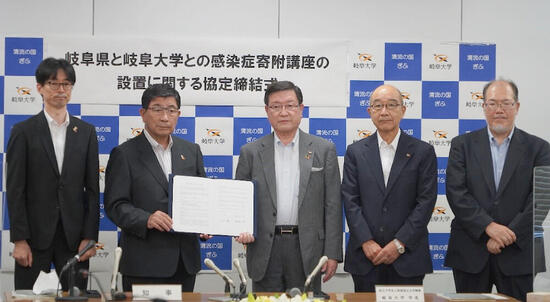 2021.08.17
Internal links
Original sites
External links
File links