Space Engineering Seminar 2021 kicks off
On Sunday, July 4, 2021, the Center for Collaborative Study with Community, Gifu University held an opening ceremony of "Space Engineering Seminar 2021" at Gifu Kakamigahara Air and Space Museum (Kakamigahara City, Gifu Prefecture). It was joined by senior high school and technical college students living in Gifu Prefecture. Some of the students also took part in online.
The Space Engineering Seminar is part of "Senior High School & University Partnership Program" of COC+* projects, and is jointly organized by Gifu Prefecture, Kakamigahara City, Gifu Prefectural Board of Education, Gifu Kakamigahara Air and Space Museum, and National Institute of Technology, Gifu College. The Intelligent Production Technology Research & Development Center for Aerospace is also supporting the seminar. Senior high school students and students of technical colleges (up to 3rd year students) are eligible to attend online seminars offered by academic staff of Gifu University and lecturers from the Japan Aerospace Exploration Agency (JAXA), and learn the latest space technologies. In 2021, 63 students are enrolled in the seminar, which brings to a total to 211 students joining the seminars from 66 schools for the past five years.
At the ceremony, President Hisataka Moriwaki of Gifu University delivered an opening speech. Video messages from space organizations in Japan and abroad, and introductions of participants followed. The National Institute of Technology, Gifu College team members also reported their winning of a technical award at C'SPACE CanSat Competition.** In addition, "Hayabusa 2 Capsule Observation Project (JAXA project)" was presented by the seminar graduates. After their presentations, President Moriwaki and Professor Toshiaki Murai, Dean of the Faculty of Engineering engaged in active discussions with the students.
There are a total of nine seminars in 2021 until the closing ceremony on Saturday, December 18, 2021.
COC+*: Center of Community Program for Local Revitalization of the Ministry of Education, Culture, Sports, Science and Technology (MEXT)
CanSat** : a very small and simple satellite but has similar functions with satellites and is maneuvered in the far distance from the human operators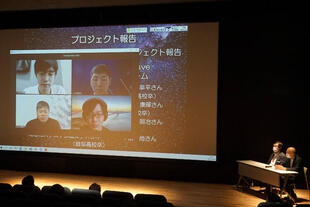 2021.07.20
Internal links
Original sites
External links
File links