Special Lecture by Museum Director of the Chiune Sugihara Memorial Hall
A special lecture by Mr. Daisaku Kunieda, Museum Director of the Chiune Sugihara Memorial Hall (Yaotsu Town, Gifu Prefecture) was held on campus on Monday, May 31, 2021. Students who are studying the "cross-culture theory (studies on Lithuania in particular)" of the General Education Courses attended the lecture, and it was live-streamed through Zoom video conferencing platform.
After an opening speech by Professor Yoshihiko Uematsu, Executive Director of Gifu University Organization for Promotion of Glocalization (GU-GLOCAL) and an introduction of the studies on Lithuania by Professor Tetsuya Mouri (Faculty of Engineering), Mr. Kunieda began to present his views on Chiune Sugihara (1900-1986).
Born in Yaotsu Town, Chiune Sugihara served as vice consul for the Japanese Empire in Kaunas, the Republic of Lithuania during the Second World War. His heroic act of issuing transit visas to some six thousand Jews fleeing Nazi persecution and invading Soviet troops, helped save their lives. Mr. Kunieda discussed political situations, Lithuania's relationships with other countries, and ordeals of the Jewish refugees of that time, etc. while highlighting the act of humanity demonstrated by Chiune.
The lecture was attended by a total of 89 people (of them, 40 were the university students, 49 were those who took part in online).
The following are some of the comments made by the participants; "I learned that Lithuania has a tragic past of deep political and ethnic divisions." "I was truly moved by Chiune's courageous and humanitarian action."
We will continue to host similar lectures, workshops or seminars to help people develop their deep understanding about Lithuania.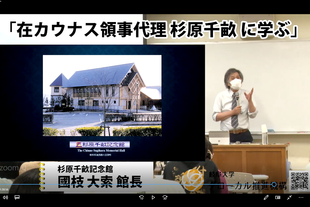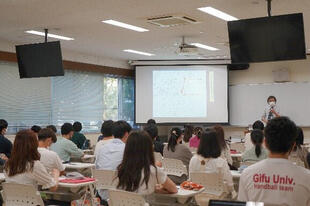 2021.06.14
Internal links
Original sites
External links
File links