Aid Fund from JA Gifu
Gifu University received an aid fund from Japan Agricultural Cooperative (JA) Gifu for reconstruction of the horse barn of Equestrian Club of Gifu University. A fire broke out from the barn and was burnt down in June 2020.
JA Gifu has been providing aid funds to support activities of groups or organizations engaged in self-promotion and revitalization of communities through agricultural development, food culture PR activities, community-building, and utilization of tangible and intangible assets for environment protection. In accordance with the purposes of the funds, JA Gifu offered Gifu University the fund to rebuild the barn and for activities of the equestrian club members.
In addition, a project of the wild animal resource laboratory of Faculty of Applied Biological Sciences (supervised by Associate Professor Junji Moribe), "Branding of Local Agriculture towards Co-Existence with Wild Birds," is also provided the fund from JA Gifu.
On Tuesday, April 13, 2021, President of JA Gifu, Mr. Hiroshi Sakurai presented a logbook of the fund to President Hisataka Moriwaki.
"The members of Equestrian Club are also engaged in various volunteer activities for society, and the fund from JA Gifu will further motivate them to work for society. Agriculture is one of the vital industries in this Chubu District. Gifu University hopes to make further contribution to agriculture and society in conjunction with JA," said the president.
Later, the members of the club introduced their activities including how they are taking care of horses. Associate Professor Moribe and Ms. Komaru of his laboratory also explained the ecology of grey-headed lapwing* and their future projects.
Gifu University continues to contribute to the prosperity and growth of local communities.
Grey-headed lapwing (Vanellus cinereus)*: lapwing bird species which breeds in northeast China and Japan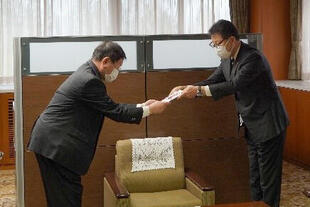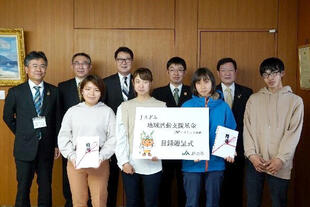 2021.04.21
Internal links
Original sites
External links
File links