AY 2021 Entrance Ceremony
 On Wednesday, April 7, 2021, Gifu University AY 2021 Entrance Ceremony was held with the attendance of only student representatives with due consideration of the spreading COVID-19 infections.
 Congratulations on your admission to Gifu University. We are here to guide you in fulfilling your aspirations, dreams and hopes which are central mission of our faculty members and staff at Gifu University.
President Address 

President Address(157KB)
---
Congratulatory Message from Tokai National Higher Education and Research System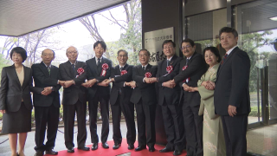 Congratulatory Message(103KB)

from the Members of Tokai National Higher Education and Research System
Congratulatory Message by Guests of Honor








President Hideaki Hara
of Gifu Pharmaceutical University









Ms. Akiko Asai, President of Gifu University Alumni Association
---
2021.04.20
Internal links
Original sites
External links
File links