Genetic Clinical Laboratory of Institute for Advanced Study, Gifu University is approved as Registered Hygiene Inspection Office
The Genetic Clinical Laboratory of Institute for Advanced Study, Gifu University, which was jointly established with the University Hospital within the genomics research building on campus, was officially approved as a registered hygiene inspection office as of March 1, 2021.
Gifu University has been serving as one of the most advanced medical treatment centers for adrenoleukodystrophy (ALD)* and peroxisomal disorders** in Japan, both of which are state-designated incurable diseases. In July 2019, "Clinical Examination Section for Intractable Disease" was created within the Division of Clinical Laboratory of the University Hospital in order to put medical research outcomes into practical use for patients. In addition, the "Clinical Examination Room for Intractable Disease Room" was established within the genomic research building. The latest approval of Genetic Clinical Laboratory as a registered hygiene inspection office will make it possible for medical institutions across Japan that those with such diseases could easily receive medical diagnosis and treatments under medical insurance policies.
Since April 2021, under instructions from Tokai Mass Screening Promotion Association, the newest screening methods have been applied for newborn babies in Gifu Prefecture for seven intractable diseases including ALD. The service is provided through cooperation from the Gifu Research Center for Public Health, obstetrics, gynecology and neonatal hospitals/clinics within the prefecture, as well as Pediatrics Department of the University Hospital.
ALD screenings have also been conducted in the neighboring Aichi Prefecture, and the two prefectures, Aichi and Gifu become the first prefectures that carry out ALD screenings for newborn babies in Japan. Babies who are tested positive in the screenings, physicians in both Nagoya and Gifu University Hospital see the babies, but every detailed examination is carried out at Gifu University.
Director of the University Hospital, Dr. Hirokazu Yoshida and Vice President Wang Zhigang (Academic Research, Industry-Academia Collaboration and Information) offered the following words of encouragement to the staffers of the laboratory, "We look forward to your contributions to society, and enhanced presence of Gifu University both at home and abroad through performing medical examinations which could lead to saving more lives particularly of those who are suffering from intractable diseases."
Gifu University stays committed to delivering early diagnoses to patients especially with state-designated aliments, effective cures as well as applying clinical diagnostic techniques developed by the university for the well-being of patients.
Adrenoleukodystrophy (ALD)*: progressive demyelinating disease resulting in seizures, hyperactivity, other symptoms include problems with speaking, listening, and understanding verbal instructions.
Peroxisomal disorders**: genetic disorders caused by peroxisomal dysfunction that may result in developmental brain dysfunction and skeletal and craniofacial dysmorphism, liver dysfunction, progressive sensorineural hearing loss, etc.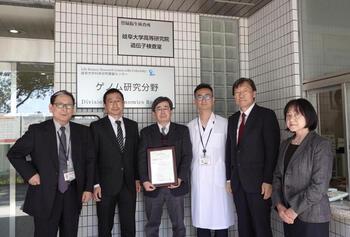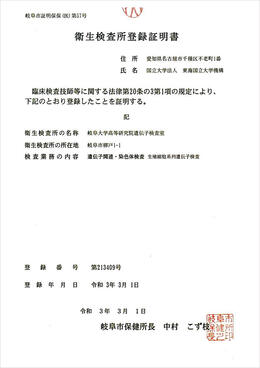 2021.04.19
Internal links
Original sites
External links
File links