Candle Night Relay
The "Candle Night Relay" is one of the official programs of "Tokyo 2020 Olympics." It is participated by nine university student organizations and is held at 10 different locations across Japan.
On Friday, April 2, 2021, the members of Gifu University environment circle, "G-amet" were off to a good start in the relay from Yanagase Shopping Arcade (Gifu City).
Prior to the relay, G-amet members organized "Candle Night Gifu" events in hopes that they could motivate more people to think about conservation and share our thoughts about what we can do to protect our environment. For these events, the members collected used oil, cans and bottles at shopping districts and on campus, opened candle workshops and performed on stage. These events were closely coordinated with "Night Sky Café" opened by volunteers at the shopping districts.
President Hisataka Moriwaki of Gifu University came to observe the relay on April 2, and enjoyed talking with people, listened to the explanations given by the students on how to make candles, etc.
The next destination of "Candle Night Relay" is Nagasaki Prefecture and the relay starts on Saturday, May 8, 2021.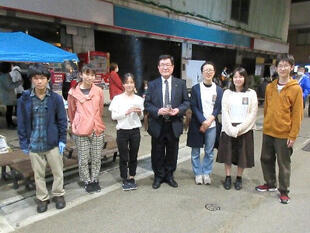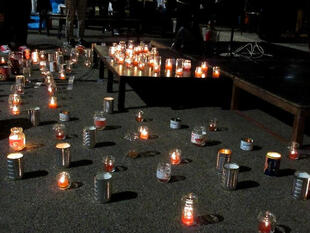 Candle Night Relay: Tokyo 2020 Olympics related event organized by the students across country

The "Candle Night Relay" is part of the activities by "Student Organization Origami" whose objective is to encourage university students to participate in the Olympics. Guided by a motto, "Make a wish on a candle, act together and pass our achievements to the next generation," students assemble together to organize various events to pass their dreams to the next generation for our better future.
2021.04.13
Internal links
Original sites
External links
File links