AY 2020 Rearing Program for Basin Water Environmental Leaders Certificate Award Ceremony
AY 2020 Rearing Program for Basin Water Environmental Leaders (BWEL) Certificate Award Ceremony was held at Academic Core, Gifu University on Thursday, March 25, 2021.
The ceremony was attended by President Hisataka Moriwaki, Vice President Hirokazu Fukui (Planning, Academic Affairs, Evaluation and Fund, Chair of BWEL General Committee), and the following program members:
- Vice President Wang Zhigang (Academic Research, Industry-Academia Collaboration and Information)
- Professor Yoshihiko Uematsu, Executive Director for Gifu University Organization for Promotion of Glocalization (GU-GLOCAL)
- Professor Fusheng Li, Director of the BWEL Promotion Office and Director of the River Basin Research Center, and
- the members of the Promotion Office
Three doctoral degree students (two from China, one from Indonesia), ten master's degree students (six from Japan, two from China, one from Indonesia and one from Bangladesh) received their diplomas from the President with his warmhearted words of encouragement in English.
On behalf of graduating students, Ms. Wenjiao Li (doctoral, Graduate School of Engineering, China) and Mr. Sota Kamiya (master's, Graduate School of Natural Science and Technology) expressed their hope for the future in English.
Gifu University Rearing Program for Basin Water Environmental Leaders aims to produce environmental leaders who can properly assess and evaluate issues related to the water environment from multiple perspectives. Such environmental leaders are expected to address problems of water quality, water resource and ecosystems that Asia and African nations are facing today. They will plan and implement strategic solutions to these issues and prevent potential risks to the environment.
A total of 228 students have completed since the start of the program in 2009, and many of them have already been playing an active role as environmental leaders in many parts of Asia.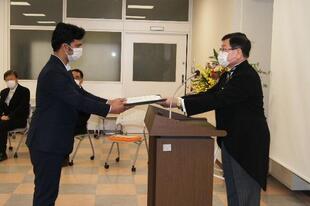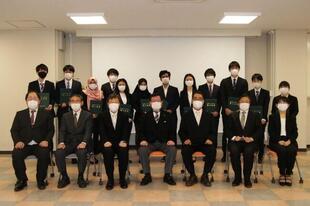 2021.04.13
Internal links
Original sites
External links
File links