Comprehensive Industry-Academia Partnership Agreement with Chubu Electric Power Co., Inc.
Gifu University and Chubu Electric Power Co., Inc. signed "Comprehensive Industry-Academia Partnership Agreement between Chubu Electric Power Co., Inc. and Gifu University" on Friday, March 26, 2021.
Gifu University has the following missions to achieve as a center of community:
- Educate university students to become highly-skilled professionals
- As a base of education, offer students opportunities to engage in high-quality academic activities
- Promote internationalization drives rooted in local communities, and
- Give our achievements back to community.
The latest agreement was concluded for the purpose of facilitating sustainable regional development through collaboration among industries and academia, specifically through a combination between academic resources that GU has obtained by fulfilling the above missions, and community-oriented business strategies by Chubu Electric Power.
In the signing ceremony, Vice President Wang Zhigang (Academic Research, Industry-Academia Collaboration and Information) gave the agreement's brief background. Dr. Wang stated, "Two important key factors of this agreement are: "TOKAI-PRACTISS (TOKAI Project to Renovate Area Chubu into Tech Innovation Smart Society" and Gifu University's own "Vision 2030." Our shared values of "regional co-existence" have resulted in the conclusion of agreement."
Next, President Hisataka Moriwaki of Gifu University made the following comments; "There are a lot in common between the two institutions in terms of goals and missions. We would like to work closely together in the fields of regional contribution, academic activities, exchange of personnel and human resource development, and our ultimate goal is to contribute to building a more prosperous Tokai Area including Gifu Prefecture."
On behalf of Chubu Electric Power, President Kingo Hayashi said, "Our company has been actively promoting "ESG* business management and strategies for continuous addition of company's values. Now, we would like to jointly pursue co-existence with an eye to building trust relationship with Chubu Region, which we hope will be further bolstered by the latest conclusion of the agreement.
Both Gifu University and Chubu Electric Power continue to work for a sustainable growth of community by closely coordinating and implementing individual programs/projects which are deeply rooted in local communities.
ESG*: Environment, Social and Governance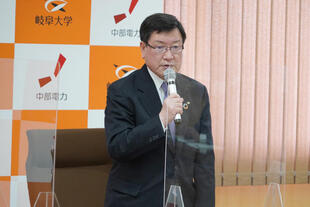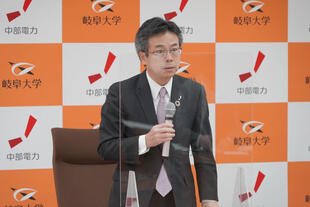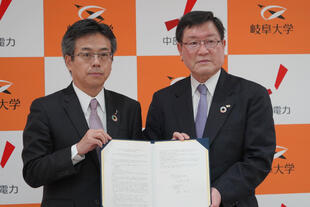 2021.04.08
Internal links
Original sites
External links
File links