Commencement Ceremony AY 2020
On Thursday, March 25, 2021, Commencement Ceremony AY 2020 was held at the University Auditorium. Only the students who represent faculties/schools attended the ceremony in order to prevent the infections of COVID-19. For those who were not able to attend, the ceremony was live streamed by Gifu University YouTube in its entirety.
In his congratulatory address for 1,292 undergraduate students and 560 graduate students, President Hisataka Moriwaki said, "With the learning and skills you have gained at Gifu University, I encourage you to maintain lofty goals and a pioneering spirit as you begin to make contributions to society, the international community, furthermore humankind at large."
On behalf of the graduating students, Mr. Naoki Matsukawa from the Faculty of Engineering expressed his resolutions as follows: "Our learning and experiences gained at Gifu University and a friendship forged among our classmates, seniors and juniors will no doubt remain a source of inspiration throughout our life. We may face many challenges and need to deal with difficult situations ahead when we get into a real world, but we pledge to move on bearing it in mind that our fellow Gifu University students are also trying their best at home and abroad."
Please access President Address, scene of the ceremony (YouTube) and congratulatory messages.
Sixteen students with outstanding academic records were also awarded by the President.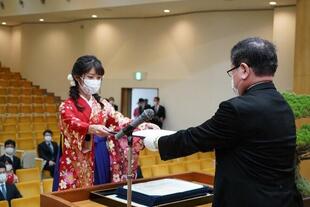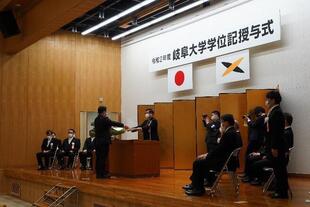 2021.04.02
Internal links
Original sites
External links
File links