Senior Professor Kazuma Nakazawa reported his "2020 (66th) Nishina Memorial Prize" awarding to President Moriwaki
On Friday, January 15, 2021, Senior Professor Kazuma Nakazawa (Science Education, Faculty of Education) reported his "2020 (66th) Nishina Memorial Prize" awarding to President Hisataka Moriwaki at the Office of the President.
Since 1955, the Nishina Memorial Prize has been awarded to up to three outstanding physicists for their achievements in the field of atomic and sub-atomic physics annually by the Nishina Memorial Foundation. The Foundation was established to commemorate Yoshio Nishina, who was the founding father of modern physics research in Japan. On Monday, November 9, 2020, the 2020 (the 66th) Nishina Memorial Prize was awarded to Senior Professor Kazuma Nakazawa for his research, "Study of double strangeness nuclei using nuclear emulsion plate."
Professor Nakazawa has proposed and promoted a series of experiments using nuclear emulsion plates at the KEK 12 GeV proton synchrotron as the predecessor of J-PARC and the J-PARC Hadron Experimental Facility. This award was given in recognition of his systematic research on double-strangeness nuclei.
In his meeting with the President, Professor Nakazawa gave the details of his research work and stated, "It is a great honor for me to be awarded the "2020 (66th) Nishina Memorial Prize." I will continue my research in hopes that my awarding will give impetus to the next generation.
President Moriwaki said, "As the president of Gifu University, it is a great pleasure to hear about Professor Nakazawa's awarding of such a prominent prize. I sincerely hope that as a forerunner in this pioneering academic discipline, Professor Nakazawa continues and expands his research work from Gifu University into the world."
Professor Satoshi Beppu, Dean of the Faculty of Education also gave the following word of encouragement: "We are very proud of Professor Nakazawa's success. We would like to convey the excitements of studying to our students, and develop human resources to follow your footsteps."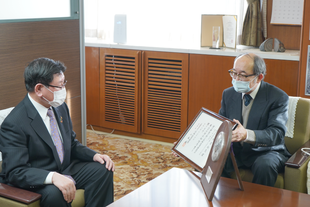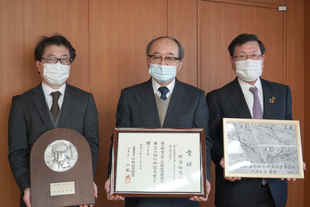 2021.01.28
Internal links
Original sites
External links
File links