Lithuania Study Meeting in Yaotsu Town "Student Study Abroad Experience in Lithuania"
Gifu University Organization for Promotion of Glocalization (GU-GLOCAL) hosted "Lithuania Study Meeting in Yaotsu Town" at Yaotsu Family Center (Gifu Prefecture) on Saturday, December 12, 2020. It was organized as part of Gifu Prefecture and Lithuania exchange program called, "Lithuania NOW 2020."
After an opening speech by Professor Yoshihiko Uematsu, GU-GLOCAL Executive Director and a meeting overview given by Associate Professor Tetsuya Mouri (the Faculty of Engineering, Gifu University), Ms. Mayu Sakurai, a 2nd grade student of the Graduate School of Natural Science and Technology, Gifu University made a presentation on her study abroad experience in Lithuania. She studied at Vytautas Magnus University (VMU, Kaunas, Lithuania) in 2019. She spoke about general information of Lithuania, her motivation and purposes of studying abroad, what she has learned from her studies, Lithuanian life, food and culture, etc. Her firsthand narrative gave a strong impression in the minds of listeners.
People also attended the meeting from Japan and Lithuania by Zoom video communications. They listened to Ms. Sakurai's presentation, and general overview of Lithuania and campus life from the VMU students. The participants later exchanged opinions over a wide range of issues including promotion of bilateral relationship between Japan and Lithuania.
We believe that hosting the Study Meeting this year is of great importance since 2020 marks the 120th anniversary of the birth of a Japanese diplomat, Chiune Sugihara (1900-1986) and the 80th anniversary from his issuance of "Visa for Life" to more than 6,000 Jews to save their lives from persecution of Nazi Germany during the Second World War. It is our strong hope that partnerships between Gifu University and Lithuanian universities will be further reinforced through the legacy of humanity left for us by Chiune.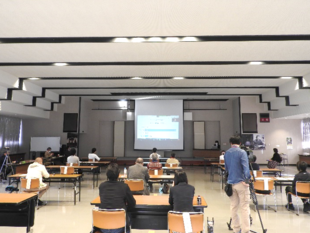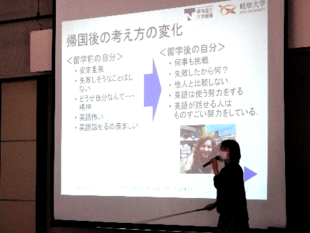 2020.12.25
Internal links
Original sites
External links
File links