"Beneficial cooperation: Lithuania-Refugees-Sugihara" Commemorative Lecture by Dr. Simonas Strelcovas
On Friday, December 11, 2020, a commemorative lecture titled, "Beneficial cooperation: Lithuania-Refugees-Sugihara" by Dr. Simonas Strelcovas, Associate Professor of History, Siauliai University in the Republic of Lithuania, was held at the university auditorium. Dr. Strelcovas delivered his speech via Zoom video communications from Lithuania and a total of 86 people attended from on or off campus.
The lecture was held to commemorate the 120th anniversary of the birth of Japanese diplomat Chiune Sugihara (1900 - 1986) and the 80th anniversary of the issuance of his "Visa for Life." It was also part of "Lithuania NOW 2020" events organized by Gifu Prefecture.
Born in Yaotsu Town, Gifu Prefecture, Chiune Sugihara served as vice consul for the Japanese Empire in Kaunas, Lithuania during the Second World War. His heroic act of issuing transit visas to some six thousand Jews fleeing Nazi persecution helped save their lives. Sugihara's act of humanity has strongly connected Gifu Prefecture to Lithuania, and the bond between the two helped Gifu University conclude exchange agreements with two Lithuanian universities of academic excellence, namely, Kaunas University of Technology (KTU, in 2010) and Vytautas Magnus University (VMU, 2012). Ever since, we have been enjoying dynamic, enduring partnership with one another bolstered by active inbound and outbound faculty and student activities.
Under the theme, "Beneficial cooperation: Lithuania-Refugees-Sugihara" Dr. Simonas Strelcovas discussed political situations, history of Lithuania and its relationships with neighboring countries, ordeals Jewish refugees underwent when they fled to Lithuania from persecution by Nazi Germany, and among others, the act of humanity demonstrated by Chiune to save their lives.
People not only gained a new insight into the tragic military past in Europe, but also were profoundly touched by Chiune's courageous and humanitarian action.
The lecture is web broadcast from Wednesday, December 16 through Monday, December 28, 2020.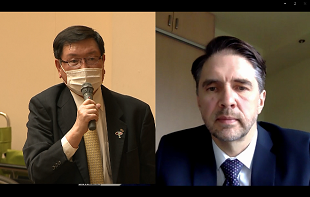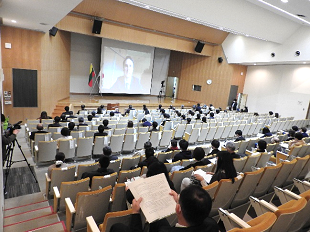 ---
2020.12.22
Internal links
Original sites
External links
File links