"Collaborative Video Making Program" kicks off
On Friday, November 27, 2020, Gifu University Organization for Promotion of Glocalization (GU-GLOCAL) hosted the first "Collaborative Video Making Program" meeting via Zoom video communications.
The three universities, Gifu University, the Indian Institute of Technology, Guwahati (IITG, India), and the National University of Malaysia (UKM, Malaysia) launched four international graduate Joint Degree (JD) program in April 2019. Dynamic faculty and student exchanges have been taking place, one of which is represented by short-term student study abroad programs. However, due to the outbreak of novel coronavirus which has been still raging around the globe, the three universities have agreed with offering "Collaborative Video Making Program" to students online this year.
In the program, eight students from Gifu University, four from IITG and four from UKM are forming four different groups and will create video footages introducing their universities and countries. Communications among the students are conducted by Zoom, and they work together in determining video themes, planning and shooting.
To support each group, Gifu University faculty members also join the program. They are Associate Professor Fumitaka Ohashi and Assistant Professor Keisuke Yamada (both from the Faculty of Engineering), Assistant Professor Atsuhiro Shimada, and Assistant Professor Teppei Imaizumi (both from the Faculty of Applied Biological Sciences). In addition, Specially Appointed Assistant Professor Mayumi Matsui (from GU-GLOCAL), Assistant Professor Mriganka Madhukailya from IITG, and Professor Lim Lee Wah from the Faculty of Engineering (Gifu University) are joining the program as official members.
In the first meeting on November 27, after the greetings from teaching staff, and an overview of the program given by Associate Professor Ohashi, members of each group discussed their future activities. Their understanding of the program goals and objectives, and close communications among students are expected to produce excellent results in video making.
From December, 2020, the students will start planning and shooting for their video clips and will make group presentations in March, 2021.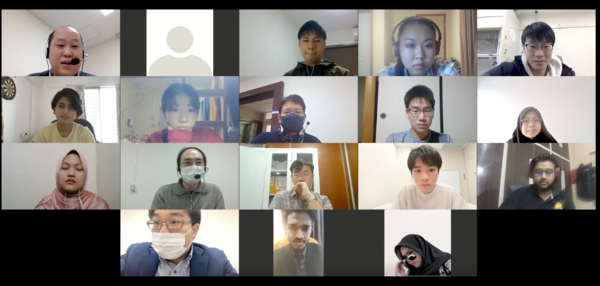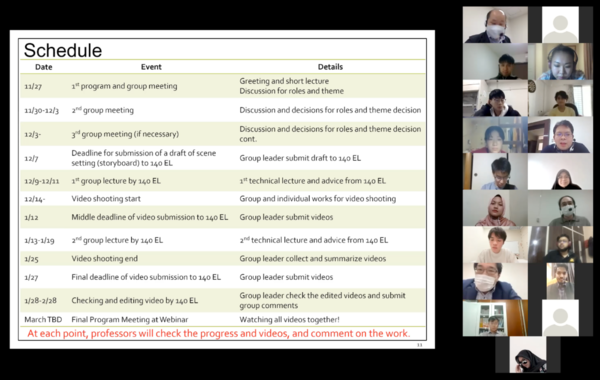 2020.12.17
Internal links
Original sites
External links
File links