The 8th IC-GU12 Roundtable 2020
On Tuesday, November 10, 2020, the United Graduate School of Agricultural Science (UGSAS; doctoral degree) hosted online roundtable meeting, "The 8th IC-GU12 Roundtable 2020" with the participation of the member schools of "International Consortium of Universities in South and Southeast Asia for the Doctoral Education in Agricultural Science and Biotechnology"(IC-GU 12; comprising 20 universities from 9 countries in South and Southeast Asia).
Since the first roundtable meeting in 2012, the meetings have been held once every year. Representatives from the IC-GU 12 member schools exchange opinions over a wide range of issues such as status and challenges in the fields of education and research activities.
The main theme of "The 8th IC-GU12 Roundtable 2020" was "Proposals in School Education and Responses to COVID-19." The participants discussed changes they are experiencing after and before the outbreak of the novel coronavirus, and future responses by member universities. Approximately 40 professors, researchers, etc. from 15 universities shared their thoughts about the current status of individual nations, possible measures against the infections, etc. The meeting offered valuable opportunities for the participants to consider their educational goals, initiatives and strategies in the future.
After the meeting, an online poster session started (co-hosted by the Gifu University Rearing Program for Basin Water Environmental Leaders (BWEL)). Twenty students made presentations in three sessions for approximately 40 IC-GU 12 teaching staff and Gifu University alumni. Five students were given the best poster prize.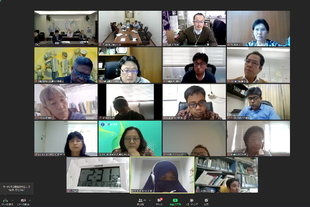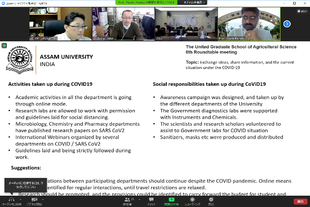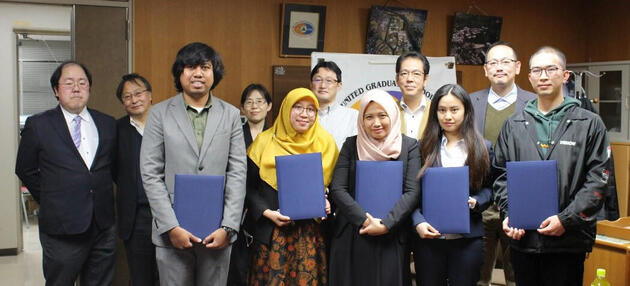 ---
2020.11.27
Internal links
Original sites
External links
File links