Student Commendation Ceremony
Gifu University makes honorable recognition of students with excellent academic achievements, or those who demonstrated outstanding performances in their extracurricular activities, or those who were recognized by their contribution to society.
On Wednesday, October 28, 2020, a total of 20 students were awarded from the President Hisataka Moriwaki for their distinctive achievements, and were presented with a certificate of commendation as well as a commemorative gift from the president.
The ceremony is usually conducted on June 1 every year on the occasion of celebrating the founding of Gifu University, but due to the coronavirus infections, all anniversary events were cancelled this year. To praise each student's dedication and devotion to their studies or social activities, the ceremony was specially held on October 28.
Gifu University keeps on supporting and guiding students to achieve their goals in their studies and success in the future.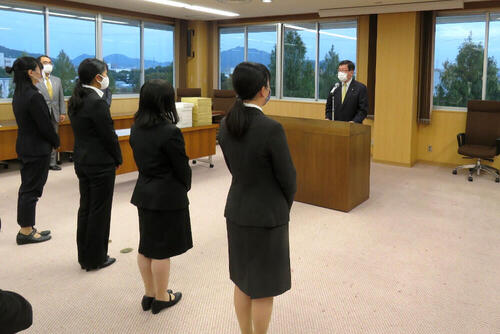 2020.11.17
Internal links
Original sites
External links
File links