"Graduation and Welcome Party" hosted by The Committee of Gifu University Alumni Association, Indonesia Chapter
On Thursday, October 29, 2020, the Committee of Gifu University Alumni Association Indonesia Chapter hosted an online meeting, "Graduation and Welcome Party (via Zoom)." In the meeting, members congratulated the 2020 autumn graduates on completion of their studies at Gifu University, and welcomed their new membership of the commitee.
The following were the participants from Gifu University:
- President of Gifu University, Hisataka Moriwaki
- Dr. Makoto Sugiyama, Vice President (General Manager and International Affairs)
- Professor Yoshihiko Uematsu, Executive Director for Gifu University Organization for Promotion of Glocalization (GU-GLOCAL)
- Professor Lim Lee Wah, the Faculty of Engineering
- Assistant Professor Keigo Noda, the Faculty of Applied Biological Sciences, and
- Mr. Shinya Kitano, Manager, International Engagement Division, Student Affairs Department
After congratulatory speeches from Prof. Dr. Achmadi Priyatmojo, President of the committee and President Moriwaki, 13 graduates made their research presentations. A total of 67 people attended the meeting. Due to the concerns over COVID-19, it was agreed by the members to hold the meeting online. During the meeting, Japanese songs were played, and many were recalling the days of their studying at Gifu University and life in Japan.
Participants also discussed the committee's future activities and reconfirmed the importance of further development, pledged continued, strong ties between the committee and Gifu University.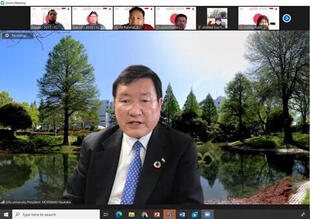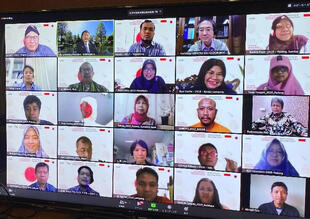 2020.11.12
Internal links
Original sites
External links
File links