Gifu University International Month: "See the World Through Google Earth VR"
As part of annual international month events, Gifu University Organization for Promotion of Glocalization (GU-GLOCAL) hosted "See the World Through Google Earth VR" at the Academic Core on Wednesday, October 7, 2020.
In this event, GU-GLOCAL staff showed students virtual reality (Google Earth VR) images of Gifu University's overseas partner universities which were projected on a big screen. It was planned for students who are wishing to study abroad, yet unable to take a first step due to the novel coronavirus pandemic.
In the morning of October 7, Specially Appointed Associate Professor Raymond Co of GU-GLOCAL introduced students the University of Alberta (Canada) in the form of quiz game. In the afternoon, Ms. Yurika Shiba, a second year student of the Faculty of Education spoke about the ESL (English as a Second Language) program at Griffith University (Australia). She attended the program as an exchange student last year. By using the latest Google Earth VR technology, students were seeing what a staff with a VR headset was seeing real time.
After the introduction of the universities, students were invited to try "Mixed Reality or MR" using Hololens2, operating "Double3" for remote communications. They were instructed and assisted by Specially Appointed Lecturer Tetsuya Toshimitsu from the Academic Research and Industry-Academic-Government Collaboration. Students were also invited to take virtual tours in and around historic sites, monuments or buildings, etc. around the globe, hologram images in MR and Double3 operations. Everyone looked very excited about these state-of-the-art technologies which may spearhead Japan's endeavors for digital transformation.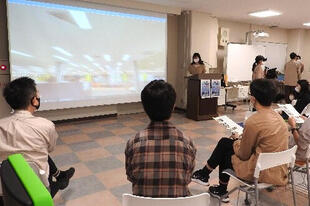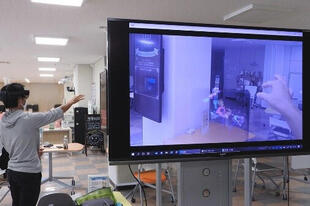 2020.11.11
Internal links
Original sites
External links
File links