Aigi Career Development Consortium for International Students: Gifu Region Workshop 2020
On Wednesday, October 28, 2020, "Aigi Career Development Consortium for International Students: Gifu Region Workshop 2020" was held at Gifu University Satellite Campus (Gifu City).
Four member organizations of this consortium (Gifu University, Gifu Prefecture, Gifu Employers' Association, and Japan External Trade Organization (JETRO) Gifu) co-hosted the workshop with an aim to support students' job-seeking activities at local industries. The October 28 workshop was the third workshop where participants exchanged opinions and shared their thoughts about challenges international students are facing in their efforts to find jobs at local businesses, and programs to help students secure employment in Japan.
On October 28, seven Gifu University international students made poster presentations for self-promotion and their dreams of working in Japan before the attending company representatives. After the presentations, 13 company representatives from 11 companies gave each presenter feedback. Through their messages, students learned how best they could promote themselves, and developed their understanding about company policies, goals, etc. first hand.
Due to the COVID-19 pandemic, the number of participants for the workshop was limited and everyone took infection prevention measures at the site of the workshop. Students expressed their deep appreciation for the opportunity to meet and talk with company officials in person. Representatives were also very grateful for the event. They enjoyed their meeting with enthusiastic students and some of them expressed their intentions to hire international students in the future.
The Gifu Region Workshop 2020 ended with a great success. We will continue working hard to help our students make their dreams come true.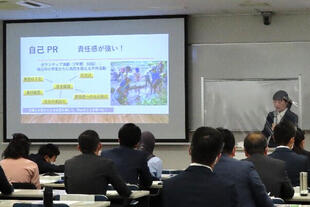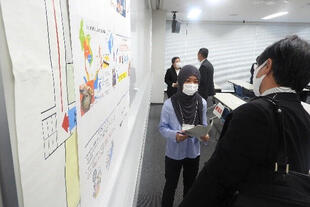 2020.11.09
Internal links
Original sites
External links
File links