Successfully adopted by Cabinet Office's "National University Innovation Creation Project 2020"
Tokai National Higher Education and Research System (THERS), Gifu University has been selected for Cabinet Office's "National University Innovation Creation Project 2020."
The project aims to promote research collaboration between academia and the private sector by offering "incentives (government funds)" in the hope of sparking innovations among universities. Two universities out of 67 have been selected in accordance with the government special assistance selection criteria. Gifu University's efforts to secure external funding and multiple planned projects are highly evaluated by the Cabinet Office resulting in the allocation of 300 million yen to the university in 2020. Gifu University has set a goal of over 20% external fund in its annual budget by 2022.
Under the governance of THERS, the following eight goals are set and will be implemented by the Academic Research and Industry-Academia-Government Collaboration and other relevant organizations. As a member of THERS, we will develop digital tools for people to live with the coronavirus, and we, Gifu University, promotes joint research activities for regional revitalization by focusing on unique features and characteristics of local communities.
Bearing THERS main mission, "Tokai Project to Renovate Area Chubu into Tech Innovation Smart Society" or "TOKAI-PRACTISS" in mind, we will continue to make every effort toward the realization of regional innovation ecosystem.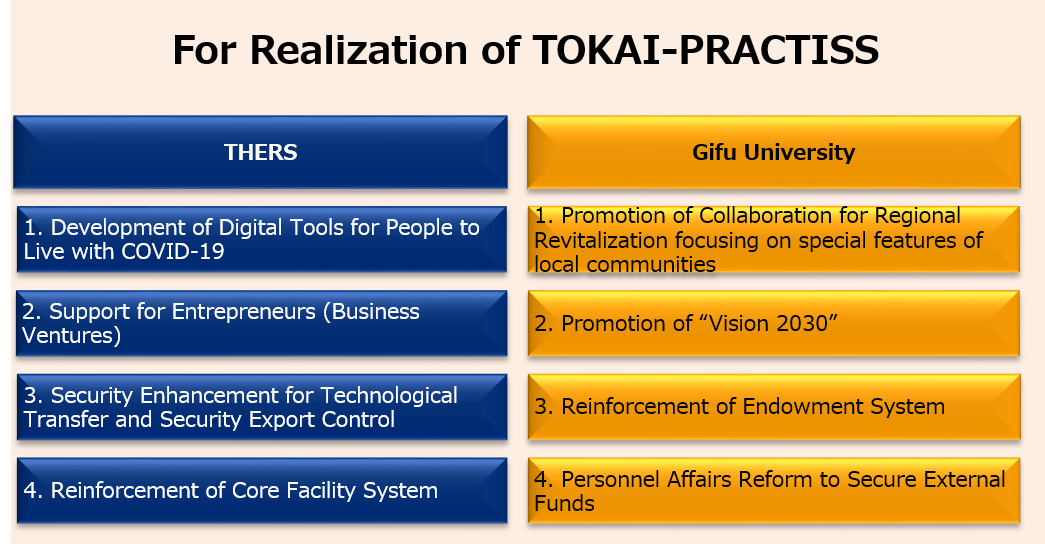 2020.10.27
Internal links
Original sites
External links
File links