Harassment Counselor Workshop
On Monday, September 14, 2020, Gifu University hosted "Harassment Counselor Workshop" moderated by Dr. Mayumi Yamamoto, Director/Professor of the Health Administration Center (HAC).
At Gifu University, harassment counselors are already assigned to individual divisions/departments to deal with various types of harassments.
Under the title, "When staff or students ask for help - how to deal with harassment complaints," Dr. Yamamoto spoke about both simulated and actual harassment cases, mental preparedness and model transactions by counselors, as well as explanations on response manual distributed to the counselors.
To prevent COVID-19 infections, the workshop was conducted online for the first time. Although the time was limited, the workshop was full of useful information and episodes. The participants learned how to enhance their counseling and consultation skills.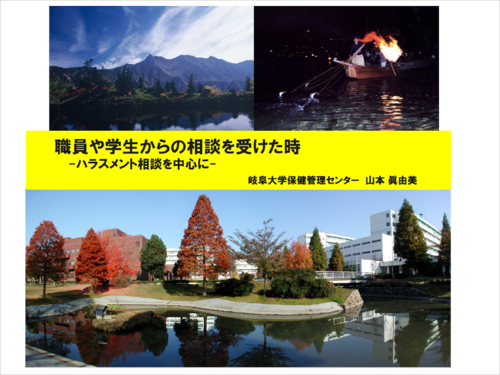 2020.10.15
Internal links
Original sites
External links
File links