Tripartite Meeting for Responses to COVID-19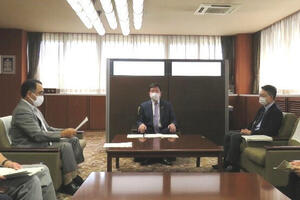 On Thursday, September 24, 2020, Professor Emeritus of Gifu University, Dr. Nobuo Murakami (Director of General Incorporated Association, "Gifu Sogo Kenshin Center," and a Chair for Gifu Prefecture COVID-19 Response Headquarters) was invited to join a tripartite meeting with President Hisataka Moriwaki and Vice President Hirokazu Fukui (Planning, Academic Affairs, Evaluation and Fund) of Gifu University.
 With due considerations for the importance of direct communications, Gifu University has partially resumed in-person classes in June, 2020 in accordance with the Gifu University Guideline for COVID-19 which lays down the university's policies for class operations and extracurricular activities. We hear that there are students who are still hesitating to come to the university being overwhelmed by a flood of media reports concerning the novel coronavirus. We hope this tripartite meeting will help student understand the real situations of the infections, and become a guide for students to "Take proper precautions and correct measures." We also hope that through our opinion exchange, we could mitigate concerns and anxieties expressed by many students, their guardians, teaching and administrative staff. The following are the summary of the Tripartite Meeting for Responses to COVID-19.
Gifu University Class Operation Policies
Monitoring our health, wearing a mask and hand sanitizing are the very basics for the prevention of COVID-19

Moderator (Dr. Hirokazu Fukui):First, may I ask about Gifu University's decision to partially resume in-person classes in the first semester?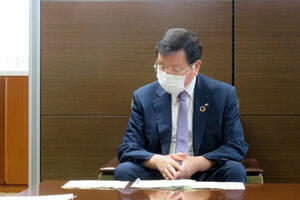 President Moriwaki:University education is designed not only to teach students academic subjects but also to instruct them to make their own decisions over a wide range of issues. We believe that direct communications between teachers and students are beneficial to students in achieving their academic goals or succeeding in life. To curb the infections, we had fewer choices but to offer e-learning classes, and we made every effort to provide high quality online classes for our students.
Under our goal of pursuing the best mix of e-learning and in-person classes, we introduced campus-wide e-learning scheme during the university's shutdown, but we have gradually switched them to in-person classes. In the second semester starting this October, we plan to offer more in-person classes to students.

Moderator:In the first semester, Gifu University set the class operation policies, and everyone followed the university's instructions on prevention measure both on and off campus. We would like to hear more about these policies and the university's responses to COVID-19.

President Moriwaki:We called on students, researchers, teaching and administrative staff to wear masks, and sanitize their hands regularly. We also changed class schedules to ease traffic congestions during commuting hours. In offering e-learning classes, we gave due considerations to deadlines of assignment submissions for the students who do not have good internet access.In addition, we provided financial aids for students in purchasing necessary equipment for the internet connections.
We made significant changes in class schedules to reduce the occupancy rate of each classroom down to 50%, and also asked students to log locations of their seats in classrooms to observe physical distancing. Furthermore, we paid special attentions to air ventilation.

Moderator:What are your impressions about Gifu University's class operation policies?

Professor Murakami: Given that many universities in Japan are making preparations for e-learning classes to avoid close contact, I was impressed with Gifu University's approaches to pursue the best mix between e-learning and in-person classes.
Letting students and staff know the importance of wearing masks and maintaining hands hygiene is the first priority. Monitoring students' health before classes is also indispensable. I understand that Gifu University has been taking enough preventive measures to operate in-person classes such as recording the locations of seats and heeding effective air ventilation.

Moderator:The occupancy rate in each classroom was around 50% in the first semester, and the percentage is going to be raised up to 60% in the second semester. What do you think of this easing of the restrictions?

Professor Murakami:The restrictions on the numbers of spectators allowed in sports stadiums, etc. have already been relaxed, and I assume that the decision for 10% increase in a classroom occupancy shows the university's intention to further ease restrictions in the near future.

Moderator:We are following the guideline of public health centers advising people to keep at least one-meter distance with one another. However, when we think about the number of students in one classroom, not all the students can keep one-meter distance from one another. Could I ask your opinions about this situation?

Professor Murakami:The guideline of public health centers advises people to keep more than one-meter distance with one another, particularly if they do not wear masks. If everyone puts on a mask, people are less exposed to infected droplets or aerosol infections, but keeping one- meter distance with each other while wearing a mask will further safeguard people from the transmissions.

Moderator:We have been closely monitoring the health of our students and staff, and also keep on logging locations of students' seats in classrooms since the first semester. Do you think we can continue these measures, or need additional new measures in the second semester?

Professor Murakami:If all necessary preventive measures are being taken, it is less likely that cluster infections take place in classrooms, but those who are suspected to have close contact with infected individuals may be required to undergo PCR testing. In this respect, recording daily activities of students and staff is absolutely necessary. The measures taken by the university on and off campus should remain in place in the second semester as well.

President Moriwaki:We have already handed "Physical Condition Log Sheet" to students to record their daily activities. Seats in dining halls have already been reduced to avoid "Three Cs (closed spaces, crowded places, and close-contact settings)."
Preventing Transmissions on Public Transportation
Wear masks and minimize conversations while using public transportation

Moderator:We heard that students who are commuting to the university on bus or train are expressing their concerns about the infections. Will you please elaborate on the university's measures to protect the safety of students using public transportation?

President Moriwaki:After hearing voices of students expressing their worries about the infections in crowded buses, additional bus services between the university and JR Gifu Station became available in the first semester, thanks to the kind cooperation from Gifu Bus company (six additional buses in the morning, four in the afternoon). After examining the rate of bus occupancy, we plan to increase six bus services only in the late afternoon from the second semester.
As a precaution to passengers, my recorded message will be announced on a bus recommending staggering of commuting hours, mask-wearing and minimal conversations. We are also encouraging students to install COVID-19 Contact-Confirming Application or "COCOA" for contact tracing.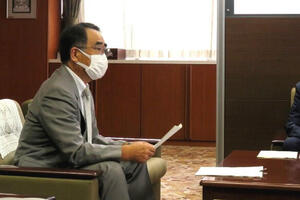 Moderator:If there are any points of attention or advice for students taking trains or buses, please let us know.

Professor Murakami:We can reduce the infection risks if we wear masks and minimize conversations on a bus or train. When we think about the fact that there are a lot of people with only mild symptoms, if we all wear masks including suspected individuals, transmissions will barely take place by way of infected droplets or aerosol infections. Nevertheless, we must always be mindful of not touching our faces with hands after, for example grasping straps on a bus or train, disinfecting our hands every time we use public transportation.
Even if there are passengers who are not wearing masks, we do not have to worry too much as long as we are wearing masks and minimizing conversations. Please note that buses are well ventilated.
Points of Attention for Extracurricular Activities
Avoid long-hour gatherings where food or drinking are served

Moderator:We know that extracurricular activities are one of indispensable parts of students' campus life. I would like to ask the university's policies for extracurricular activities.

President Moriwaki:Many students have been expressing their strong hopes for resumption of extracurricular activities from the early days of the outbreak. Extracurricular activities are forming significant parts of students' campus life. On September 14, 2020, we have downgraded the level of risks for extracurricular activities from three to two (on a scale of 0 to 4) and allowed students to take part in indoor activities if they take every prevention measure. However, dinner meetings and events conducted in the "Three Cs" settings remain prohibited.

Professor Murakami:Gifu University Guideline for COVID-19 that covers all the activities of students, staff both on and off campus, has been well-formulated. Among others, prohibiting dinner meetings and overnight stay activities is the right decision. When we look at actual infection cases, many were infected while eating or drinking with others after events. Downgrading the risk level for extracurricular activities does not always heighten the infection risks, and if dinner meetings and overnight stay events remain prohibited, students can safely engage in their extracurricular activities.
PCR Testing and Flu Vaccinations
COVID-19 infection prevention measures will also be useful to prevent the flu infections

Moderator:What do you think of the effectiveness of PCR testing? As this year's flu season is approaching, we would like to have your opinions about how to avoid infectious diseases.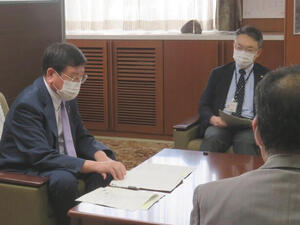 Professor Murakami:If we are tested positive for PCR testing, we may be a carrier of the coronavirus. The truth is however, around 30% of those who were tested negative are not actually negative. When we think about the COVID-19 incubation period, many people can be tested negative at first, but become positive at later dates. PCR testing is not always perfect, therefore, public health centers ask people to stay at home for 14 days if they are suspected to have a close contact with the infected individuals.
When in-person classes are resumed, students who are tested negative may actually be infected, and this is why we need to continue to implement all preventive measures. In the past, there were cases that the flu spread from people tested negative. Because infections can be contained if everyone closely monitors his/her health and wears masks, taking proper measures is more effective than conducting PCR testing for everyone. I believe that there is no need to conduct PCR testing for everybody if they wear masks all the time.

Seasonal flu usually spreads faster than COVID-19 via people-to-people contact, but as long as current prevention measures remain in place, flu patients are not likely to increase dramatically this year. As a matter of fact, the number of people contracted infectious diseases this summer was significantly small. If we continue to care about our health by taking a good rest, wearing masks and sanitizing hands, fewer of us will be contracted the flu this winter.
Responses to the Third and Fourth Waves
Take all infection prevention measures

Moderator:What will the university's response to the possible third and fourth wave of the infections?

President Moriwaki:We should remain vigilant and keep the infections at bay. If the third or fourth waves should take place, we need to assess the overall situations before taking concrete steps on campus. In collaboration with Gifu Prefecture, Gifu City and other organizations, we will do our utmost to take measures without delay. I would also like to ask some advice from Professor Murakami regarding the university's strategies to a possible resurgence of infections.

Moderator:Professor Murakami, how can we brace ourselves for third or fourth waves of infections?

Professor Murakami:Most viruses become less virulent with the passage of time, but if they find hosts, they can easily multiply within the hosts. Even if third or fourth waves should happen, no new measures will be necessary. All we need is to continue to take conventional prevention measures. As long as we wear masks, transmissions among people are less likely.
University Education for the Future
Gifu University pursues the best mix of in-person and e-learning classes.

Moderator:Please tell us about Gifu University's educational policies when the pandemic is finally over.

President Moriwaki:In-person classes form the basics of university education, but after we introduced e-learning to a number of classes this April, we learned that e-learning has its own merits. Depending on the subjects, students can learn more from e-learning classes, thus, we have decided to pursue the best mixt of in-person and e-learning classes for the time being. Gifu University will continue to work tirelessly for providing new educational curriculum for the benefits of our students while preparing for the days when the pandemic finally comes to an end.

Moderator:Do you think we can restore our sense of normalcy we used to enjoy before the outbreak?

Professor Murakami:Some statistics shows that COVID-19 infections are again on the rise around the world. Fortunately, the number of patients in Japan is steadily decreasing. I hope that our conventional prevention measures will eventually stop the infections both at home and abroad, and we all can rebuild our life. I cannot say anything certain at this point of time, but let's hope we will soon see the end of the tunnel of "COVID-19 pandemic."

Moderator: "Take proper precautions and correct measures." This can be the surest pathway for us to restore our life. Thank you very much for taking the time out of your busy schedule to attend the tripartite meeting today.
Information
1. During lunch breaks, some spaces at the General Education buildings are open for students. At the No.1 Dining Hall, partitions are installed for diners to avoid infections.
2. Bus services are increased from Gifu University to JR Gifu Station in late afternoon to reduce crowded buses way home.
3. "Measures against the novel coronavirus infection at the Gifu University" is posted at the Health Administration Center's website.
---
2020.10.13
Internal links
Original sites
External links
File links