Space Engineering Seminar 2020
On July 6, 2020, the Center for Collaborative Study with Community kicked off an online "Space Engineering Seminar 2020," which was joined by senior high school and technical college students living in Gifu Prefecture.
The Space Engineering Seminar is part of "Senior High School & University Partnership Program" of COC+* projects, and is jointly organized by Gifu Prefecture, Kakamigahara City (Gifu Prefecture), Gifu Prefectural Board of Education, Gifu Kakamigahara Air and Space Museum, and National Institute of Technology, Gifu College. The Intelligent Production Technology Research & Development Center for Aerospace is also supporting the seminar. Senior high school students and students of technical colleges (up to 3rd year students) are eligible to attend online seminars offered by the staff of Gifu University and the Japan Aerospace Exploration Agency (JAXA) regarding the most advanced space technologies. In 2020, 48 students are enrolled in the seminar. A total of 56 schools already joined the seminars, and 167 students have completed their studies till today.
At its opening ceremony, President Hisataka Moriwaki said, "Please make the most of invaluable experiences you have acquired through your attendance of the seminar and apply them to a wide range of fields and activities in the future." His speech was followed by a live broadcast from Gifu Kakamigahara Air and Space Museum, video messages by Ms. Naoko Yamazaki, a Japanese astronaut, and also people in space industry both at home and abroad. Later, participants were introduced one by one on the screen.
This year, a new discussion session titled, "Past, Present and Future of Space Engineering Seminars" was held to commemorate the seminar's 5th anniversary. President Moriwaki and Professor Minoru Sasaki, Vice Director of the Center for Collaborative Study with Community fielded questions about Gifu University from the participants. In this session, "Hayabusa 2 Sample Return Capsule Observation Project" was also introduced, which will be implemented by the graduate students of the seminars. At the end of the session, Professor Toshiaki Murai, Dean of the Faculty of Engineering and Professor Kouichi Masukawa, Director of the Center for Collaborative Study with Community encouraged the participants to pursue their interests in space exploration.
There are nine seminars in 2020 until the closing ceremony held on December 19, 2020. *COC+: Center of Community Program for Local Revitalization of the Ministry of Education, Culture, Sports, Science and Technology (MEXT)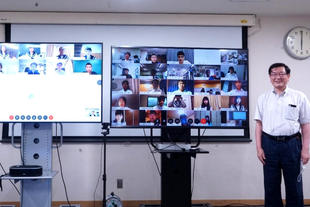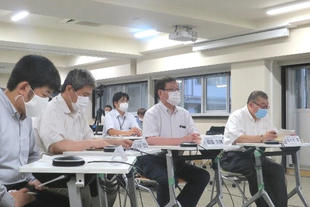 2020.07.16
Internal links
Original sites
External links
File links