Gifu University Business Venture Certification Ceremony
On March 17, 2020, Gifu University hosted the "Gifu University Business Venture Certification Ceremony" for GF・Mille Co. Ltd. to honor the firm for becoming the 4th certified business venture born out of Gifu University. GF・Mille Co. Ltd., is a drug development enterprise which uses Gifu University's patented technology of chemical modified nucleotide. It is now expected to have a global reach through joint research initiatives with overseas research institutes.
The ceremony was attended by Mr. Yasuhiro Furuichi, GF・Mille board director, and Professor Yoshihito Ueno, the Faculty of Applied Biological Sciences, Gifu University and Mr. Furuichi was presented the certificate from President of Gifu University, Hisataka Mrowaki.
"It is a great privilege for us to have an excellent research lab like GF・Mille in Gifu," said the president. In response, Mr. Furuichi said, "We would like to make Gifu the center of nucleic acid research in the future. I hope many graduate school students and researchers get to know more about our company and our activities."
Gifu University continues to develop the systems under which we could give strong, consistent support to business ventures in line with our major objective of giving achievement back to the communities. We firmly believe that community-based activities will further bolster our academic and research advantages in years to come.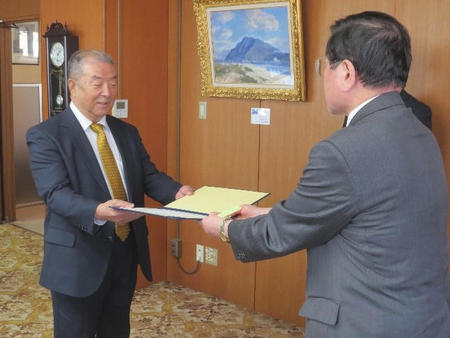 2020.04.01
Internal links
Original sites
External links
File links