Cooperation Agreement between Gifu University and Mizunami City
Gifu University and Mizunami City (Gifu Prefecture) signed a comprehensive cooperation agreement on March 10, 2020. The agreement has eight clauses encompassing agendas for disaster prevention and protection of environment.
Even before the signing of agreement, Gifu University and Mizunami City have been collaborating in personnel assignments, technical support and dispatching lecturers to workshops and seminars for community-building. Under the new agreement, the university and the city continue to pursue the following:
・Build a comprehensive, close partnership in diverse fields
・Deepen the partnership in a sustainable and expansive way
・By doing the two above, contribute to creation and growth of a lively community and development of human resources for the future.
With the March 10 signing, Gifu University now has cooperation agreements with 28 municipal governments.
In a signing ceremony, President of Gifu University, Hisataka Moriwaki said, "One of the primal missions of our university is to become a hub for regional revitalization, and this remains unchanged after an integration with Nagoya University in April, 2020. We are very grateful for an opportunity to collaborate with Mizunami City and will work together for cultivating human resources who can play significant roles in community development in the future."
In response, Mayor of Mizunami City, Kouji Mizuno made the following remarks: "I hope Gifu University students study more about community affairs through their active engagement with our city. I strongly believe that some of those students will become excellent community leaders in the near future."
Gifu University and Mizunami City will jointly conduct inspections and research to address various regional challenges. Discussions will soon start for student internship programs at Mizunami City.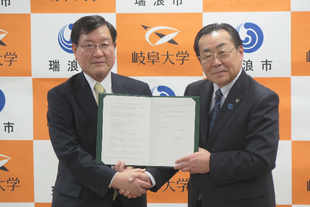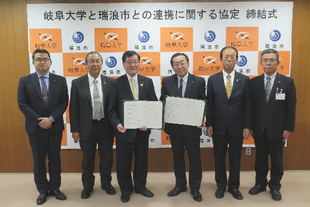 2020.03.30
Internal links
Original sites
External links
File links