Cooperation Agreement between Gifu University and Hida City
Gifu University and Hida City (Gifu Prefecture) signed a comprehensive "Cooperation Agreement between Gifu University and Hida City" on February 28, 2020. It has eight goals to achieve including community-building to counter rapid depopulation and promotion of regional exchange.
Gifu University and Hida City have been conducting personnel exchange among various organizations and institutions, providing technical support, opening summer schools as one of COC+* projects, and development and maintenance of terraced rice fields. Under the new agreement, the university and the city aim to develop human resources capable of building dynamic, vibrant communities in the future. To this end, the two will join hands to forge a sustainable and comprehensive partnership with one another in multiple, wide-ranging fields.
With the February 28 signing with Hida City, Gifu University now has the cooperation agreements with 27 municipal governments.
In the signing ceremony, President of Gifu University, Hisataka Moriwaki said, "Hida City is one of the most culturally and geographically diverse cities in Gifu Prefecture. I look forward to seeing many Gifu University students becoming great contributors for the development of Hida City by fully utilizing their expertise on design thinking."
"Hida City is faced with many challenges and issues including city's falling population. To address these challenges, collaboration with Gifu University is indispensable. Today's signing will be a great head start for both the university and the city," said Mayor of Hida City, Junya Tsuzuku.
Gifu University and Hida City will continue to work together to strengthen the relationship through active involvement of students, citizens and all stakeholders toward ideal community-building in years to come.
*COC+ (Center of Community Program for Local Revitalization) projects: projects of the Ministry of Education, Culture, Sports, Science and Technology (MEXT). Their objectives include assembling people together to regions for revitalization by: - offering attractive job opportunities to students in collaboration with universities, local governments and businesses and, - supporting university's curriculum reform efforts necessary to cultivate personnel sought by regions.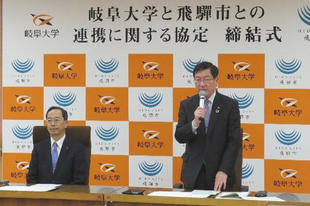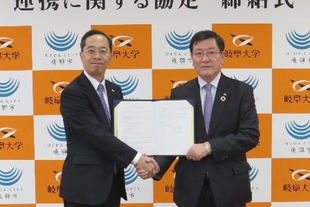 2020.03.19
Internal links
Original sites
External links
File links