Mr. Ryoichi Akamatsu receives "Land of Clear Waters Gifu Honorary Prize" second time
Mr. Ryoichi Akamatsu (2nd year student, Subject-Integrated Education, the Graduate School of Education) received the "Land of Clear Waters Gifu Honorary Prize" at the Gifu Prefectural Government building on February 14, 2020.
The "Land of Clear Waters Gifu Honorary Prize" created by Gifu Prefecture honors people who have contributed to boost the stature of the prefecture by making remarkable achievements in individual specific fields. Mr. Akamatsu won at the male high jump category of the 88th Emperor's Cup for Japan Student Athletics Interscholastic Championships (Japan Intercollegiate Track & Field Games) held in Gifu in September 2019. It was the second time for Mr. Akamatsu to receive the honorary prize for his outstanding performance at the championships.
Mr. Akamatsu and Assistant Professor Ryohei Hayashi (Mr. Akamatsu's supervisor) visited the Office of President to report his awarding and also the winning at 2020 Japan Indoor Meet in Osaka held on February 2, to President Hisataka Moriwaki on Febrauary 18, 2020.
"It is truly unprecedented for anyone to be awarded the honorary prize twice. We all look forward to your great success and achievements in the future," said the president.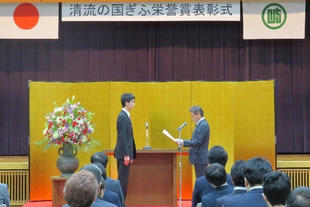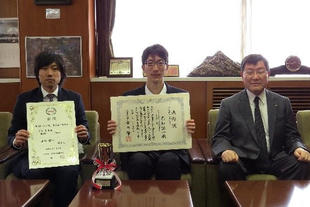 2020.03.19
Internal links
Original sites
External links
File links