Gifu University's wining of Environmental Communication Awards 2019
"Environmental University - Gifu University: Environmental Report 2019" was presented the award in line with the "Law Concerning the Promotion of Business Activities with Environmental Consideration by Specified Corporations, etc., by Facilitating Access to Environmental Information, and Other Measures (provisional translation)" at the environmental report division of Environmental Communication Awards 2019 co-hosted by the Ministry of Environment (MOE) and the Global Environmental Forum.
On February 19, 2020, the awarding ceremony was held at Prince Hotel Shinagawa (Tokyo). Vice President Seiki Ofuji, Executive Director for General Affairs and Finance and other representatives from Gifu University attended the ceremony. They shared the joy of winning with one another, which is the first in the history of Gifu University.
MOE and the Global Environmental Forum award superior environmental communication organizations in an effort to facilitate ecofriendly business operations and communications, to enhance information disclosure practices by industry, municipal and state governments.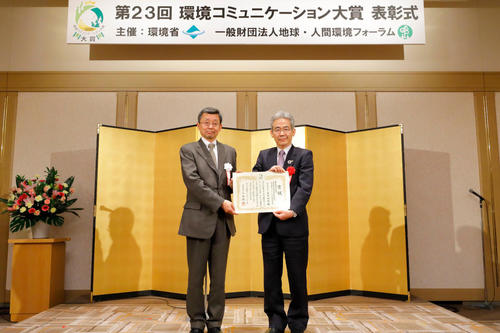 Here are the remarks from a panel of judges to Gifu University: "Gifu University's environmental report explains that under the president strong leadership, the university is making a sincere effort to realize Sustainable Development Goals or SDGs. Its environment-related information is quite exhaustive, yet easy to understand. It also shows a strong consistency between the university's policies and actions. Notably, we were very impressed to know that even one inspection by the university staff is made to drive forth the university's environment protection efforts. Gifu University makes a fresh start as the "Tokai National Higher Education and Research System, Gifu University" with Nagoya University in April 2020. We sincerely hope that the university continues to promote and expand student-driven activities and information disclosure."
Gifu University stays committed to communicating its various conservation programs/projects to the public with the wining of the Environmental Communication Awards 2019 as a great momentum.
2020.03.05
Internal links
Original sites
External links
File links