Report Session: Industry, Academia, Banking Institution and Government Collaboration for Region-Based Human Resource Development Project
Approximately 140 students of the Faculty of Engineering and the Faculty of Regional Studies, Gifu University made their presentations at Grand Vert GIZAN (Gifu City) on January 30, 2020. These students are taking part in the "Industry, Academia, Banking Institution and Government Collaboration for Region-Based Human Resource Development Project."
The major objectives of this project are; securing, fostering and promotion of settlement of highly-skilled workers in Gifu Prefecture in an aim to revitalize local economies through a strong partnership between the prefecture, business, academia and financial institutions.
Students at the Faculty of Engineering who are studying the machinery engineering practice course (intelligent production technology research and development for aerospace (off campus activities)), were divided in groups, and attended the lectures or took part in practical training programs offered by enterprises in Gifu Prefecture for half a year.
Students at the Faculty of Regional Studies joined the "Municipal Government Collaborative Internship" of the "Next Generation Regional Leader Fostering Program" which is promoted by the Center for Collaborative Study with Community, Gifu University. During this internship program, students interviewed young workers employed at enterprises in Gifu, and compiled reports on the results of their activities.
In the report session, first, Professor Wang Zhigang, Vice President for Industry-Government-Academia Collaboration of Gifu University, and Mr. Tomohiko Okamoto, President of NABEYA CO., LTD gave their opening speeches. Professor Zhigang said, "This project aims to enhance students' creativity and power of imagination. We believe it provided our students with abundant opportunities to experience things/events happening outside of campus." Mr. Okamoto followed and remarked, "The project was a real test for students as they always had to think flexibly to tackle real challenges in the business world relying on their knowledge acquired through their studies at the university."
Next, a total of 22 student groups made presentations on their respective themes by showing slides to the audience. Students later explained their activities to incoming visitors before the posters of their making. "I used a computer to design my product, but it was not so easy for me to assemble a real product by following the design, but it was really a good lesson for me," said one student after the poster session.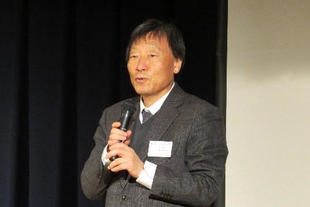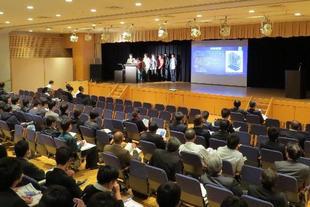 2020.02.14
Internal links
Original sites
External links
File links