Gifu Prefecture Agriculture & Forestry Education System
On January 25, 2020, The 7th Research Report & Exchange Meeting was held at the Faculty of Applied Biological Sciences, Gifu University. It was hosted by the Gifu Prefecture Agriculture & Forestry Education System Alliance Meeting composed of Gifu University and agricultural schools and institutions within Gifu Prefecture. Approximately 230 people attended including teachers and students from the alliance schools, and professors from the faculty. As many as 58 presentations were made by the students at the meeting.
On behalf of Gifu University, President of Gifu University, Hisataka Moriwaki and Professor Makoto Sugiyama, Dean of the Faculty of Applied Biological Sciences gave their opening speeches. They were followed by the presentations made by six groups of students formed in accordance with their respective research fields. Every time presentations were made, students discussed and exchanged opinions to develop their understanding about individual themes. They were also intently listening and responding to pieces of advice, instructions given from teachers, graduate school students, etc. at Gifu University.
The following are the comments from the students who attended the meeting: "We want to make the best use of opinions and advice given from the experts for our future activities." "We learned a lot from the presentations made by the students from different schools (presentation styles, performances and the contents of research). We would like to utilize what we have learned today for further promotion of our research in the future."
The number of participants at the report and exchange meeting has been growing year after year, and we hope that regular exchanges between senior high schools and Gifu University will facilitate continued development of the meeting from the next year onward.
The number of presentations: 58
- Gifu Agriculture Academy 4
- Gifu International Academy of Horticulture 5
- Gifu Academy of Forest Science and Culture 1
- Agricultural senior high schools within Gifu Prefecture 48 (Gifu Nourin High School (14), Kamo Nourin High School (10), Ena Agricultural High School (8), Hida Takayama High School (6), Gujo High School (4) and Ogaki-yoro High School (6))
Excellent Poster Awards went to:
- "Designing and creation of spot garden"
- "Selection of eggplants for raw eating: aiming for greater eggplant consumption"
- "Instant heat pad development Part II: using soy sauce cake as oxidation catalyst: extension of heating and elimination of cake smell"
- "Make Gujo game meat known to the public: serve a deer meat hamburger"
- "Wooden mattress utilizing warp effect"
- "Promotion of soaps made from persimmon tannin and oil waste: endeavors to preserve persimmon tannin"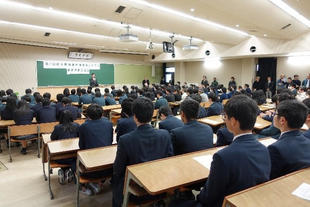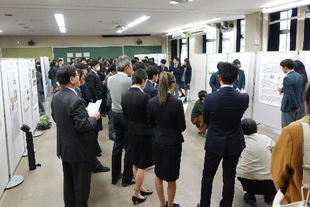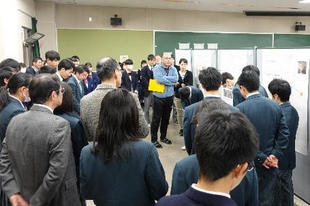 2020.02.14
Internal links
Original sites
External links
File links