Tree-Planting Ceremony to Celebrate the 10th Anniversary of "Environmental University" Declaration
On January 22, 2020, Gifu University held the Tree-Planting Ceremony to celebrate the 10th anniversary of the "Environmental University" declaration.
As a community-centric university, Gifu University is carrying out a wide range of environmental activities by working closely with Gifu Prefecture.
At the request by the university students, a Japanese yew tree (tree of Gifu Prefecture) was planted at the rotary in front of the university's central administration office building.
After the speech given by President of Gifu University, Hisataka Moriwaki, Professor Mutsuki Higo from the Faculty of Applied Biological Sciences explained about a yew tree to the people attending the ceremony. Later, members of student circles, "G-amet" and "Three trees" planted the tree.
Japanese yew tree is slow to grow, but this evergreen conifer thrives on rather a hostile and adverse environment. Yew trees are called by multiple names by region, and are long loved by local people in Japan. In northern Hida region (Gifu Prefecture), yew trees are used for the traditional Ichii itto Carvings (yew wood carvings). Wooden handicrafts made from this carving method are renowned for their natural beauty of the wood grain, and unique sheen developed over time.
Gifu University continues to carry out environmentally-friendly activities based on the university's environment policies in the years to come.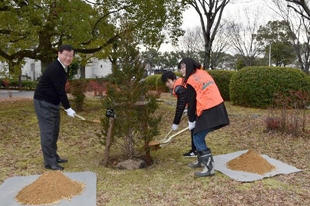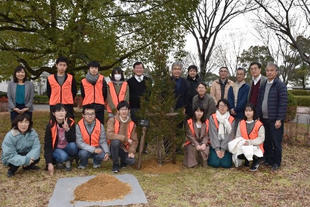 2020.02.14
Internal links
Original sites
External links
File links