Meeting with Successful International Personnel
Gifu University Organization for Promotion of Glocalization (GU-GLOCAL) hosted "Meeting with Successful International Personnel" at the University Library on December 18, 2019. It was held as part of "Career Development Program for International Students (commissioned by the Ministry of Education, Culture, Sports, Science and Technology of Japan: MEXT)" and was supported by Gifu Convention and Visitors Bureau. Two officials from JTB Corporation were invited to the meeting as speakers. A total of 12 international students attended the meeting.
First, Mr. Takayasu Goto, Office Manager of Gifu Branch, JTB Corporation gave an overview of JTB business in each division. They are "travel business," "communication business," "regional exchange business" and "solution business for general affairs." Mr. Goto detailed the contents of business in each division as well as planning and future prospects of the company.
Next, Mr. Shrestha Anoj (from Nepal), Nagoya Department, JTB Corporation spoke about his own experiences of studying in Japan, job-hunting and efforts to adjust himself to Japanese corporate culture and environment. His speech was full of useful advice for international students who are seeking jobs in Japan.
Their presentations were followed by Q&A session where students asked many questions to the speakers. In the following informal gathering, students and the speakers shared information, and exchange views over work, business, etc. in a friendly setting. All the messages found in questionnaires were very positive, representing students' appreciation for the opportunity to meet with the officials from one of the largest travel agency in Japan.
We hope the Meeting with Successful International Personnel gave a strong motivation to students in their efforts to find an employment in Japan.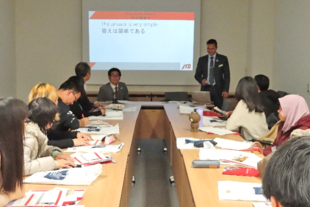 2020.01.09
Internal links
Original sites
External links
File links