The 8th Networking with Local Companies
On November 27, 2019, Gifu University Organization for Promotion of Glocalization (GU-GLOCAL) co-hosted "The 8th Networking with Local Companies" with Gifu Shinkin Bank and Asahi University. The event was conducted as part of the Career Development Program for International Students (commissioned by the Ministry of Education, Culture, Sports, Science and Technology (MEXT)).
"Networking with Local Companies" have been held annually since 2012 in order to provide international students who are seeking job in Japan, with overviews of local businesses and industries within Gifu Prefecture.
A total of 15 companies set up a booth at the Dining Hall No. 2 on campus, and around 60 international students spent time enjoying conversations with the company staff at the booths. Line of business of 15 companies ranged from automobile parts manufacturers to food processing whose operations have been expanding overseas. Of them, three confectionary companies took part in a "test marketing" for their products.
As a new activity for 2019, an internship consultation desk for international students and companies was set up to help students and companies build stronger connections with one another.
"It was really a good experience for me. I would like to participate in similar programs in the future." "It was very useful for my job-seeking activities." These are the feedback from the students.
Both international students and company representatives expressed their wishes for the next networking with local companies.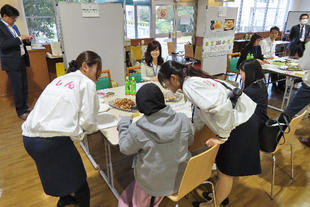 2019.12.13
Internal links
Original sites
External links
File links