Industry and Technology Seeds Presentation
The Head Office for Industry-Government-Academia Collaboration, the Center for Collaborative Study with Community, Gifu University (a member of Chubu Innovation Creation Network) hosted the "Industry and Technology Seeds Presentation in Gifu" on October 11, 2019. The presentation serves as a venue for new "seeds" information-sharing among research institutes, business support organizations and local industries in eight prefectures in Chubu Region (Aichi, Gifu, Mie, Toyama, Ishikawa, Fukui, Nagano and Shizuoka) for creation of new businesses. On October 11, Gifu University organized and hosted the Industry and Technology Seeds Presentation on campus for the first time.

Mr. Masaaki Takano, CEO of DG TAKANO Co., Ltd., a highly reputed entrepreneur of today was invited as a keynote speaker and spoke about innovations.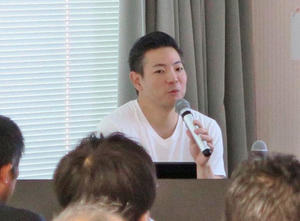 Mr. Takano succeeded to produce pulsating flow without electricity, which led to the invention of "Bubble 90" water saving nozzle (max. water saving percentage is as high as 95%). In 2019, he was named one of the "50 Japanese people who move the world" by Nikkei Business publication. A series of awarding continued. They are: "Monozukuri Award" by Monozukuri Nippon Conference, first ranking among the most popular business ventures, and JAPAN VENTURE AWARDS, etc.
He talked about his motivation to think and act to look for "new solutions" by way of design thinking. By introducing some of his experiences of bringing new products into the world, Mr. Takano mentioned that the strong undercurrent of his motivation is "Create something completely new and unprecedented through an idea that has never existed before."
DG TAKANO started as a business venture in an area clustered with many small factories in Higashi Osaka (Osaka Prefecture), thus most people may think that the company is driven by new technologies, but Mr. Takano describes his company as "a design driven" as he believes that the essence of his business policy is "use our head, imagination and design thinking." For example, DG TAKANO has developed the special metal shaving technology, but he said that it does not always generate significant, real values. He spoke about the possible benefits from the water saving products if they could give a breakthrough to social problems such as water shortage, etc. "What matters most today is whether we can design new technologies, whether we can produce something completely new through designing or not," said Mr. Takano.
After the keynote speech, research topics of the Gifu Prefectural Industrial Technology Center and the National Institute of Technology (KOSEN), Gifu College were introduced. In addition, introduction of programs/projects of the Center for Advanced and Smart Die Engineering Technology (G-CADET) and the Gu Composites Center of Gifu University were made for the audience.
Gifu University is carrying out programs to support entrepreneurship and creation of venture businesses starting from the university with the Head Office for Industry-Government-Academia Collaboration (headed by Associate Professor Uehara) as a center, and also in collaboration with external bodies (financial institutions, private enterprises, etc.). They aim to encourage students and researchers to try their hands in starting their own businesses. We continue to contribute regional vitalization and creation of new businesses through education and mentoring by entrepreneurs (Gifu University alumni), and building up the university's own startup development ecosystem.
2019.11.07
Internal links
Original sites
External links
File links