Gifu University 70th Anniversary Symposium: "Create a new social design in an era of population decrease: from a gender-equal perspective"
On September 27, 2019, Gifu University hosted a symposium "Create a new social design in an era of population decrease: from a gender-equal perspective" (Gifu University 70th anniversary event and the university's "Initiative for Implementation of Diversity Research Environment (Collaboration Type)" sponsored by Japan's Ministry of Education, Culture, Sports, Science and Technology (MEXT)).
In the first session, Ms. Seiko Noda, a member of the House of Representatives (former minister in charge of women's empowerment), and Mayor of Gifu City, Masanao Shibahashi were invited as keynote speakers. By quoting some examples, Ms. Noda spoke about negative effects on women in their daily lives and legal matters due to fewer decision making opportunities given to them. Moreover, she underscored the importance of gender equality and social diversity. Under the theme, "Policies and Challenges of Gifu City," Mr. Shibahashi talked about child-raising support programs to counter the ongoing population decrease, promotion of tourism and urban development initiatives by showing people various data and statistics.
In the second talk session, Mr. Shibahasi and the following guests appeared on the stage:
- President Takahiko Nonogaki, API Co., Ltd.
- Ms. Eiko Hara, Director of Gender Equality & Women's Empowerment Support Center
- Professor Satoru Hayamizu, the Faculty of Engineering (Gifu University)
- Specially Appointed Assistant Professor Emi Ochiai, the Gender Equality Promotion Office (Gifu University)
The themes discussed included potential impacts on local economy and society by population decrease, improvement of work environment for better services with limited personnel, utilization of new technologies, etc. They also exchanged their views on "new social design" from the standpoints of various quarters (private sector, government and university).
The symposium was attended over 200 people. "I understand that gender equality is not the matter of women only. It's the matter of whole society," said one of the participants. As many positive feedback shows, the symposium was a great success in giving people a chance to contemplate issues related gender equality. Gifu University will continue to implement programs for the realization of gender equality in the years to come.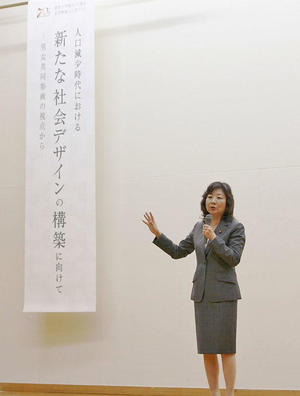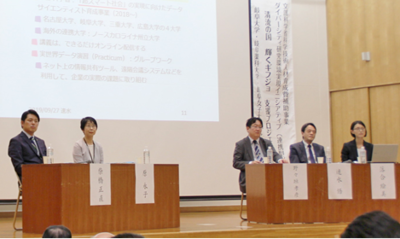 2019.10.28
Internal links
Original sites
External links
File links