Gifu University student team won Aichi Governor Award
Gifu University student team won Aichi Governor Award (the highest award) at the "1st Aichi Prefecture University Tournament Hackathon "Hack Aichi"" (hosted by Aichi Prefecture) held on September 7, 14 and 15, 2019 at DENSO Corporation Nagoya Office (Aichi Prefecture).
The word "hakathon" was coined from a combination of "hack (exploratory software programming)" and "marathon." In hakathon competition, programmers compete to develop new services or products by using information technology (IT). In "Hack Aichi" tournament, university students across country gathered to demonstrate their IT skills.
In the competition, GU students proposed a deterioration detection system of a steel tower before its collapsing by a typhoon, etc. They actually created a detection equipment which can be used for other building structures as well.
On October 2, GU team members and their supervisor reported their victory to President Hisataka Moriwaki at his office.
One of the students said, "The tournament was quite challenging because unlike our usual studies on manufacturing, we had to think about our product marketing strategies too, but our strong teamwork led us to win the highest governor award." President Moriwaki praised their great achievement, and encouraged them to convey what they have learned from the tournament and their challenging spirit to their juniors.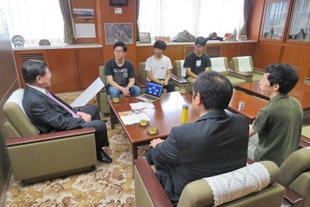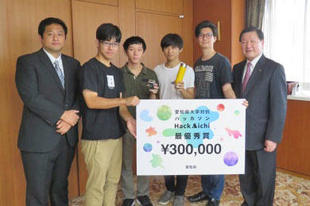 2019.10.21
Internal links
Original sites
External links
File links