Robocon and Professor Sasaki's Laboratory run a booth at Ogaki Future Festival 2019
Gifu University student club, "Robocon (Robot Contest)" and Professor Minoru Sasaki's laboratory members (the Faculty of Engineering) set up the booths at Ogaki Future Festival 2019 on September 28 and 29 held in Ogaki City (Gifu Prefecture).
Ogaki City hosted the festival with an aim to demonstrate the most advanced robot technologies, artificial intelligence (AI) and Internet of Things (IoT), etc. It also offered a space and opportunity to children to experience the cutting-edge technologies firsthand. Gifu University took part in the festival as part of the university's initiatives to contribute to community development.
In the booth, Robocon members instructed visitors how to operate athletic robots and introduced a communication robot (capable of communicating with humans). At Professor Sasaki's laboratory booth, people enjoyed fully immersive virtual reality (VR) experiences, and exhibition of a successful rocket launching.
There was a large turnout for this two-day festival. Among others, children had a rare chance to be exposed to the latest technologies and the activities of Gifu University.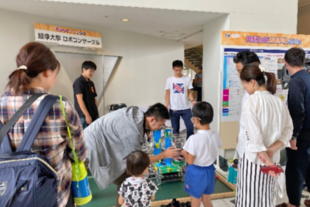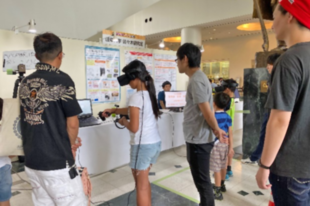 2019.10.21
Internal links
Original sites
External links
File links