Sixth Press Conference by President AY 2019
Gifu University held the sixth press conference by president AY2019 on September 17, 2019.
First, President Hisataka Moriwaki gave a briefing on the establishment of new Gifu University business venture certification system, and its role in "Gifu University Future Vision toward 2025." It was followed by a speech by Associate Professor Masayuki Uehara, Head of the Industry-Academia Collaboration Division, the Organization for Research and Community Development, who spoke of the background and details of the system. At the conference, Associate Professor Shintaro Hisatake from the Faculty of Engineering was invited to make a presentation about his start-up, which was certified as the first business venture under the new system.
Gifu University is providing unique entrepreneur education for students, researchers and staff, and now sees a growing number of start-ups, emergence of new businesses, more inquiries and demands for consultations when we reinforced service and support mechanism for entrepreneurs. The purposes of our new certification system are; to clarify the relationship between Gifu University and business venture starting from the University, and to offer smooth, proper assistance to new businesses. To be certified as "business venture starting from Gifu University," firms or enterprises must meet the criteria set by the system such as utilization of intellectual properties, research and technology achievements born out of the University. After certification, start-ups can receive multiple forms of assistance from the university including use of office space, logo and networking with firms and local municipalities.
On the same day, the certification award ceremony was held. Representatives from the first to third certified ventures were at present, and were handed the certificates from the president. Ventures created by the university students were also awarded the certificates.
"I hope you will expand your business in the Tokai Region and beyond in the near future," said the president.
We will continue to develop our business venture support system and give back our success and achievements to the community, to increase our academic strengths and research advantages for years to come.


【Certified Business Ventures from Gifu University】
| | Company Name | Representative | Establishment | Business Contents | Other Information |
| --- | --- | --- | --- | --- | --- |
| 1 | Photonic Edge | Shintaro Hisatake | July 2019 | Development and supply of Electromagnetic wave visualizer for high-frequency applications | Representative: Associate Professor, The Faculty of Engineering |
| 2 | Lukos | Shota Asahi | October 2018 | Supply of IT solution via AI for manufacturing in Tokai Region | Representative: PhD student at the Graduate School of Engineering |
| 3 | GRC | Masahisa Sawada | March 2019 | Product development for the radiology department, support for remote imaging diagnosis | Representative (in Gifu University): professor of the School of Medicine |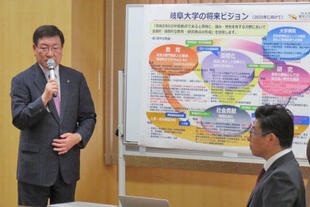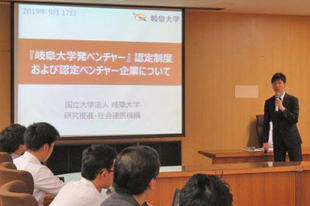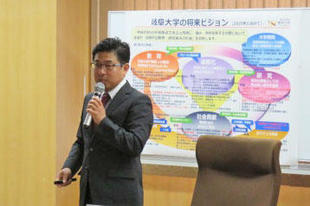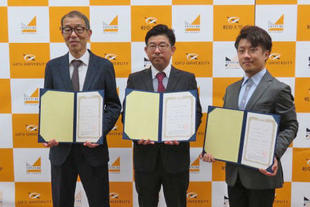 2019.10.01
Internal links
Original sites
External links
File links