GU students attend Japan-China Friendship Program 2019
Five Gifu University students attended "Japan-China Friendship Program 2019" hosted by the Consulate-General of the People's Republic of China in Nagoya, and visited mainly coastal areas in China from August 28 to September 3, 2019. The five GU students were selected among university and college students in six prefectures (Toyama, Fukui, Ishikawa, Gifu, Aichi and Mie prefectures) after passing strict document screenings by the consulate-general. There were more applicants than the maximum number of 100 attendees set by the program.
The itinerary included visit to universities where the participants were invited to take part in a number of exchange programs with students, tours to major cities and scenic spots as well as experiencing local cultures and traditions. Their visit was extensively reported by Xinhua News Agency, the People's Daily and other major news outlets in China.
"We were warmly welcome by people wherever we went," "Everything was so perfect," were some of the comments by the participants. Everyone looked happy with their stay in Chia. Their latest visit is expected to establish a new grass-root friendship that bridges between people across continents.
The following are the program details and some memorable pictures. We hope they will become useful references for people who are interested in studying abroad or attending overseas training in the near future.
Itinerary:
Day 1: Left from the Chubu Centrair International Airport, arrived at Shanghai, moved to Nantong (Jiangsu Province), joined a welcome reception
Day 2: Visited Jinghai Commercial St., moved to Changzhou, enjoyed shopping
Day 3: Visited ruins of a castle at Changzhou, moved to Nanjing, observed castle walls, visited The Jiangnan Examination Hall
Day 4: Visited Nanjing University, Touniu Tourism Network, moved to Zhenjiang
Day 5: Visited Jiangsu University, vinegar museum, ancient streets, moved to Suzhou
Day 6: Visited Soochow University, garden, lake, business and industry complex, move to Shanghai
Day 7: Returned to Japan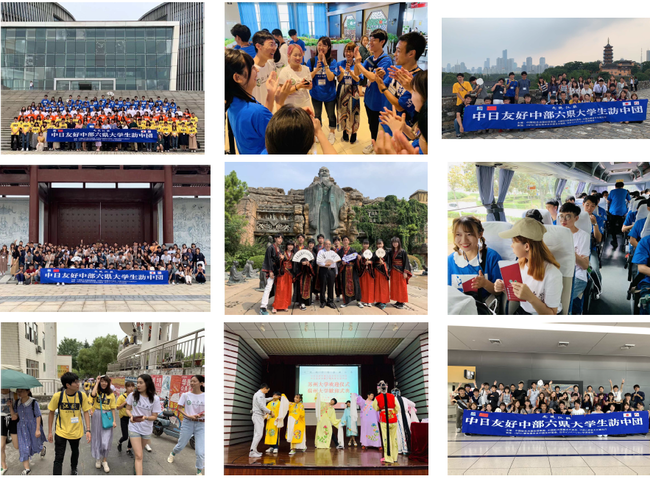 2019.09.26
Internal links
Original sites
External links
File links