International Students × Minomisho Joint Workshop
Gifu University Organization for Promotion of Glocalization (GU-GLOCAL) hosted a joint workshop with Delicasuito Co., Ltd. on August 28, 2019. The workshop was conducted as part of job-seeking course of the Career Development Program for International Students. Its major objective was to help students and employees of Minomisho home meal replacement company (operated by Delicasuito) put Japanese business operations into perspective.
At the workshop, the participants discussed how to offer hospitality to foreign tourists and increase the number of foreign customers for Minomisho JR Nagoya Station Branch. On August 28, seven people (three international students, one Gifu University staff, two Delicasuit staff and one Keisei (human resource development firm) staff) attended the workshop.
At the beginning, Delicasuit representatives gave a summary of the company and the purposes of the workshop. When arrived at the Nagoya branch, the participants took a quick look around the shop and observed staff's work performances as "customers." Later, they talked about their impressions and points for improvement while tasting Minomisho boxed lunches they were served.
The following are the feedback from the students: "Exchanging opinions with others over the shop operations was quite meaningful to me." "Inspecting the shop with specific purposes was the first experience to me. I found the workshop is quite useful and educational." The workshop offered the international students who are seeking jobs in Japan, a rare opportunity to express and share their opinions about the shop management and operations in Japan. The Delicasuit staff said that the students comments were all "scales fall from their eyes." They promised to take the comments seriously in hosting foreign tourists at every Delicasuit branch for better business operations in the future. Expectations are already high for the next workshop among people of Gifu University, the private sector and international students.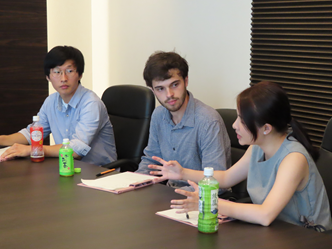 2019.09.12
Internal links
Original sites
External links
File links