Opening of COC+ External Appraisal Special Committee
The Center for Collaborative Study with Community's COC+ External Appraisal Special Committee was held at Gifu University on August 23, 2019. The committee was established to assess the progress of COC+ program, "Make a big step in Gifu × Bring a plus to Gifu: joint development of a region-oriented business leader." Gifu University is playing a leading role in implementing the COC+ projects.*
On August 23, five members attended the committee. They were:
- Mr. Toshiyuki Yoshida, President of Agricultural Policy Research Committee, Inc.
- Mr. Toshiyuki Omatsu, President of Gifuken Internship Conference, Chairman of Gifu Plastic Industry
- Mr. Genjiro Nakamura, President of Akitaya Honten, Co., Ltd.
- Mr. Yoji Sawatari, Auditor of Giken Service, Co., Ltd.
- Mr. Hirofumi Takai from the Gifu Broadcasting System
The members of committee all of whom were selected for their expertise and extensive knowledge in their respective fields, measured the success and achievements in 2018, and shared their views on the promotion of future activities and partnership with relevant bodies and organizations.
Based on the conclusions by the special committee, the appraisal results for the 2018 achievements are scheduled to be finalized at the Gifu COC+ Project Promotion Consortium Operation Meeting.
*COC+ (Center of Community Program for Local Revitalization) projects: projects of the Ministry of Education, Culture, Sports, Science and Technology (MEXT). Their objectives include assembling people together to regions for revitalization by: - offering attractive job opportunities to students in collaboration with universities, local governments and businesses and, - supporting university's curriculum reform efforts necessary to cultivate personnel sought by regions.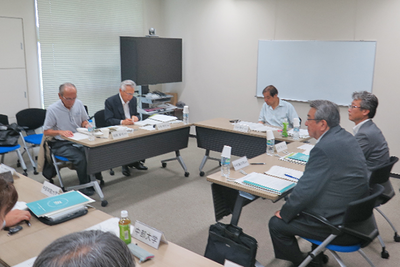 2019.09.10
Internal links
Original sites
External links
File links