Gifu University Men's Handball Club wins a ticket to Japan Intercollegiate Competition
The 58th West Japan Student Handball Competition (men's, hosted by the Japan Handball Association) was held at Sky Hall Toyota (Aichi Prefecture) on August 14 - 16, 2019. Gifu University Men's Handball Club won all three matches at Block C for the participation in the Japan Intercollegiate Competition, and obtained the ticket to the 62 Takamatsunomiya Cup Japan Intercollegiate Competition. Only two teams are from the national universities out of 24 teams which have become eligible to compete, and Gifu University is one of the two. It will be the 14th time for Gifu University Men's Handball Club to compete at the competition and the first in five years.
Members of the club and their supervisor paid a courtesy call on President Hisataka Moriwaki on August 26, 2019 to report their achievement to the president.
"We extensively studied about our opponents, and succeeded in carrying out our game plans and team strategies to the fullest." said one of the members. President Moriwaki praised their victories and gave them the following word of encouragement: "Participation in the Japan Intercollegiate Competition is a great accomplishment we all feel very proud of. I am very much looking forward to seeing you advancing the tournament by winning every match."
The Japan Intercollegiate Competition is held at Sendai City, Miyagi Prefecture on November 8 - 12, 2019. A total of 32 teams coming across Japan will compete with one another to get to the top in this university handball competition.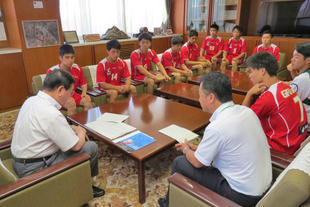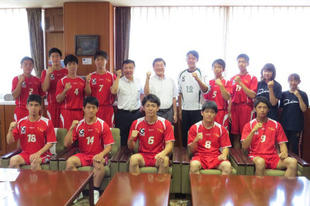 2019.09.09
Internal links
Original sites
External links
File links