Delegates from VMU paid a courtesy call on President Moriwaki
Ms. Kayako Takagi, lecturer of Vytautas Magnus University (VMU, Lithuania) made a courtesy call on President Hisataka Moriwaki on July 31, 2019. She was accompanied by Project Manager Arvydas Kumpis of Sugihara Memorial Museum in Lithuania. He is currently carrying out his research in Gifu University as an international researcher.
The meeting with the president was attended by the following staff from Gifu University:
- Dr. Fumiaki Suzuki, Executive Director for International Affairs and Public Relations
- Professor Mutsuhiro Shima, Division Head of the Study Abroad Promotion Division, Gifu University Organization for Promotion of Glocalization (GU-GLOCAL)
- Professor Akira Gassho from the Faculty of Regional Studies
- Associate Professor Kiyoshi Naka from the Faculty of Education
- Associate Professor Testuya Mouri from the Faculty of Engineering, and
- Ms. Haruko Nonomura, Director for International Affairs and Planning, GU-GLOCAL
In their meeting with President Moriwaki, Ms. Takagi and Mr. Kumpis briefly introduced the Republic of Lithuania and students' life at VMU. The meeting was concluded with a strong message from the two guests wishing for further expansion of the partnership between Gifu University and VMU.
Ms. Takagi later gave her lecture titled, "Why do you go to 〇〇? - "Must-know" information before your visit overseas" for the seminar organized by GU-GLOCAL. She extensively spoke about the importance of studying abroad, attractions of Lithuania and VMU.
Gifu University and VMU have been enjoying long-term friendship fostered by active exchange among academic staff since the two institutions signed the university-level agreement in 2012. It is hoped that the two universities will further advance this enduring partnership through dynamic interchange among staff and students far into the future.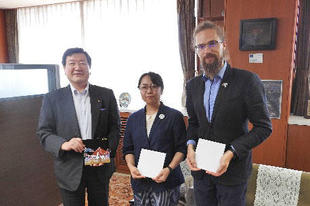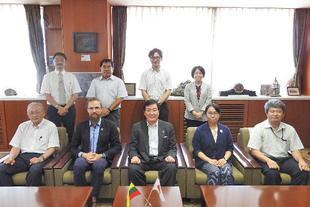 2019.09.09
Internal links
Original sites
External links
File links